In this guide, we'll answer the question, "what is local SEO?"
We'll also go beyond the definition of what is local search and how it works by covering the importance of local SEO marketing and the various ways it can help your business.
But that's not all…
Below you'll also find local search marketing examples and an overview of how to put a local search optimization strategy in place for your business.
By the end of this post, you'll understand the essentials of local search and how SEO can make a business more findable in your local area.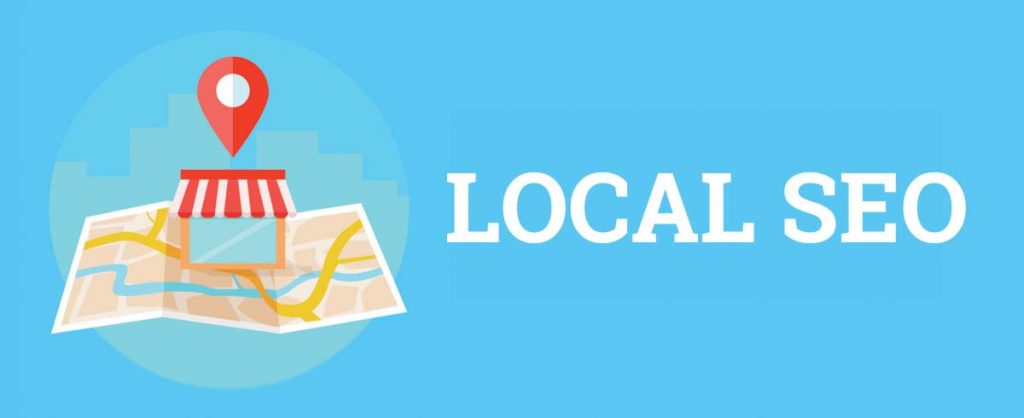 What Is Local SEO?
Local SEO is a search engine optimization strategy that helps businesses increase visibility in local search result listings. Local SEO marketing is best used for businesses with a physical location. Good local search optimization practices will rank a business in Google for a local area to get more customers.
The basics of local search marketing include optimized content, on-page SEO, and link building that are all focused with localized intent.
A local SEO strategy will optimize for queries targeting geographic locations like:
[type of service] near me
[type of business] near me
[type of service] + [city name]
[type of business] + [city name]
Now that you know the basic idea behind what is local SEO, let's now move on to what is local search and how it works.
What Is Local Search?
Local search is the use of search engines to find products and services based on geographically constrained search criteria. A local search query is analyzed against a structured database of local business listings to find relevant suggestions. Local searches display phone numbers, addresses, websites, reviews, and photos for local businesses.
A local search is used to find brick-and-mortar businesses with physical locations. The intention of most local searches is to make a transaction offline with a business, such as a grocery store, doctor's office, restaurant, electrician, or roofing company.
Ranking for local keywords is important for earning SEO traffic. We'll go over this more below, but I also have a post on what is SEO traffic if you need further clarification of this term.
How Does Local SEO Work?
Local SEO works by ranking a business in the search engine for geographic queries. When a user performs a search, Google scans through its index to provide the best results for that query based on the user's location. Local SEO uses a specific set of ranking factors to rank in local search results.
With proper search optimization, you can let Google know that your business is located in a particular area and should be displayed for customers in that location based on specific search queries.
What Is the Difference Between SEO and Local SEO?
The difference between SEO and local SEO is that traditional SEO focuses on improving a site's visibility on a national or global scale while local SEO works to capture traffic from searchers in a local area, such as towns or regions. SEO and local SEO use different search engine optimization strategies.
You can read my post on what is organic SEO if you want more details about that topic.
We'll go over a typical strategy for local SEO later in this guide. But first, let's go over why local SEO is important and see examples of local search online.
Is Local SEO Important?
Local SEO is important because it helps a business stand out in search engines. A local SEO strategy can drive more traffic to the business through online leads, calls, and personal visits. Local SEO is important for attracting people who are specifically searching for products or services that a business offers.
Here are some statistics of why local SEO is important:
You can learn more about the importance of local search optimization for small business in this guide: Benefits of local SEO. Or check out this other in-depth article on why SEO is important for business.
What Is an Example of Local Search?
Examples of local searches include "lawyer in downtown Atlanta", "Washington DC hotels", "gyms in Manhattan", "restaurant in Los Angeles", "event planner near me", and "auto dealer near me". Local search is seeking information online about a business within a geographic location with the intention of making an offline transaction.
Below are two examples of how local search appears in the Google search engine.
The first local search example displays the Google Local Pack, which is a section of the search results that shows three local businesses related to your query.
The Local Pack includes the business name, address, phone number, review ratings, hours, website link, and directions that lead to Google Maps.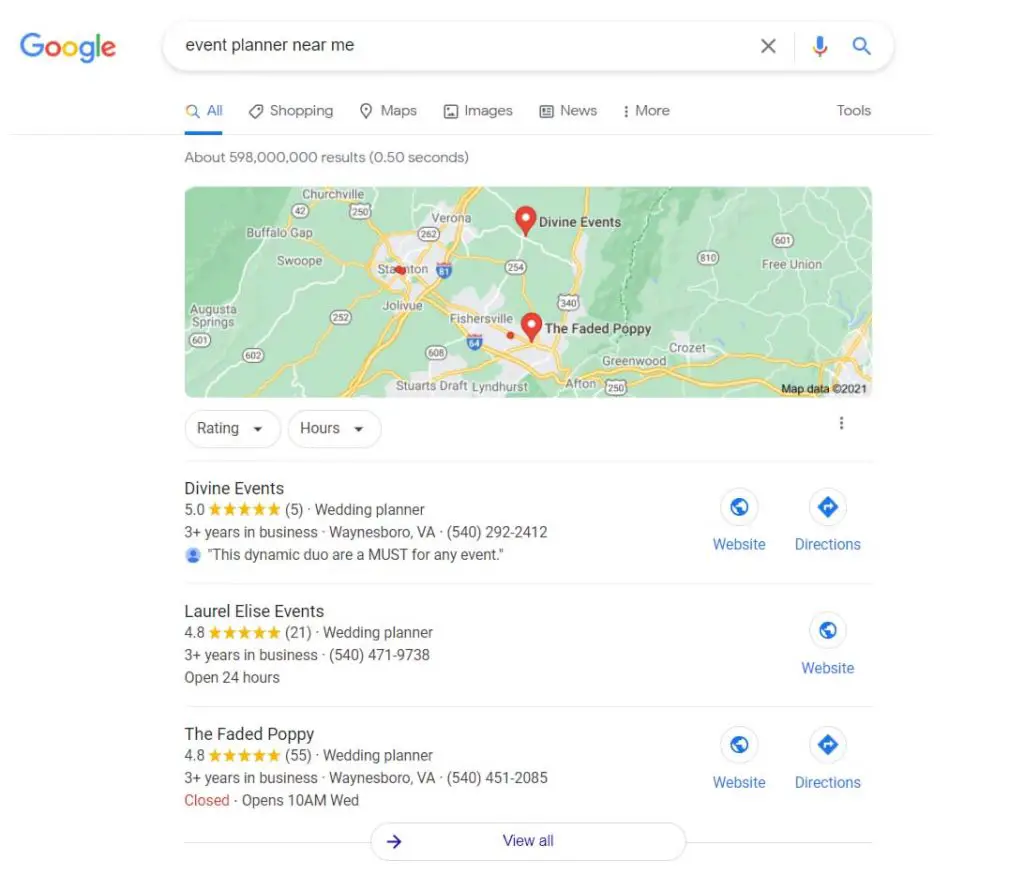 The second local search example below displays Localized Organic results, which appear below the Local Pack results.
Localized Organic results look like standard search result listings with the website URL, title, and description. Local Organic results do not contain business contact details unless it's intentionally added to the meta description field.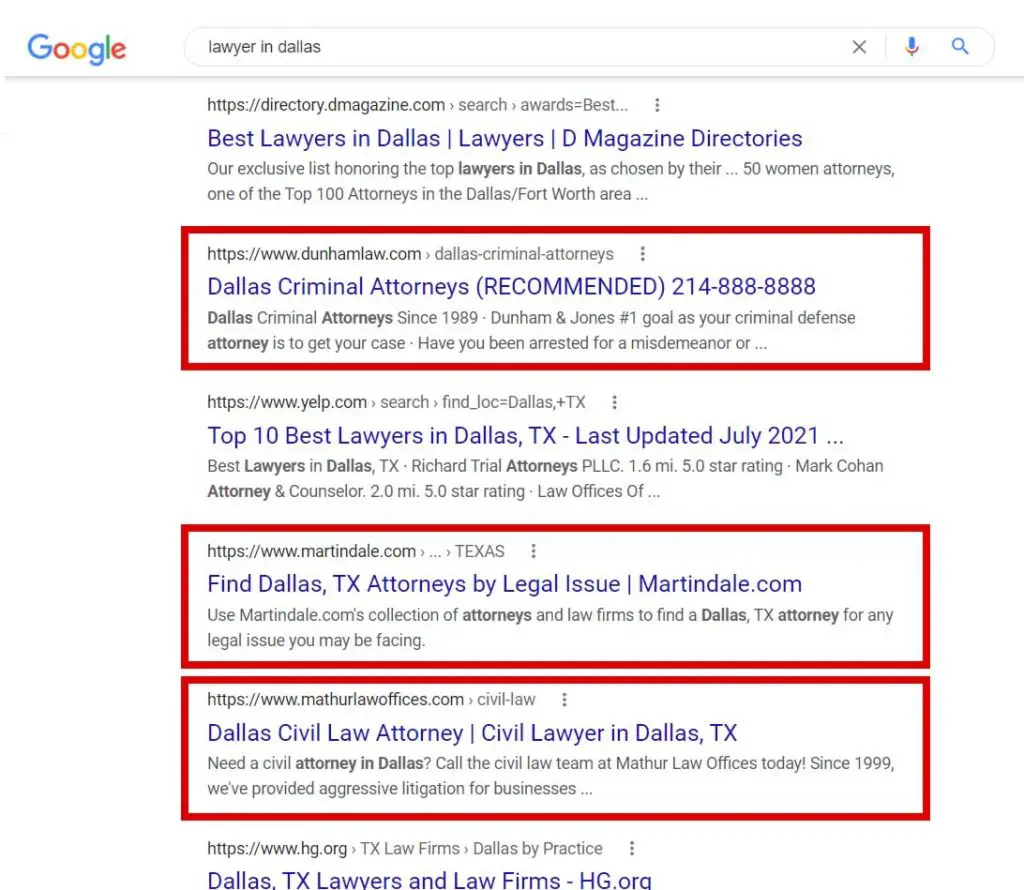 What Is a Local SEO Strategy?
A local SEO strategy is a combination of optimizations that can increase the visibility of a business in the Local Pack and Localized Organic search engine results. There are three pillars of a good local search strategy: proximity, prominence, and relevance.
To achieve higher rankings for a business with local SEO marketing, a good strategy will include on-page and off-page SEO techniques:
Verified Google My Business listing.
Optimized Google My Business listing with keywords in the business title if it's part of the legal entity name
Optimized online directories and citations with keywords in the business decription.
Getting mentioned and linked to from industry-related local sites like newspapers, schools, universities, and government organizations.
Having a consistent name, address, and phone number (NAP) online.
Having local keywords in Google reviews for the business.
Increasing the Google review ratings and responding to customer reviews.
Proximity of address to point of search.
Adding location pages to your website.
Creating local content.
Local keywords in the internal links of your website.
Optimized on-page SEO elements and content for local keywords.
Creating topical authority across the entire website for a local area.
Increaseing the volume of quality of localized content throughout the website.
Ensuring your website is mobile-friendly.
Getting inbound links with topical relevance, authority, and local keywords in the anchor text.
You can read my complete guide on how to add keywords to Google My Business to improve your rankings results.
If you're new to the idea of on-page optimization, then check out my article on what is on-page SEO to learn more about it.
It's also worth pointing out that your site should be optimized well from a technical perspective. Technical SEO optimization can sometimes make or break your rankings. That's because a poorly optimized website with technical problems can experience rankings suppressions.
See my guide on what is technical SEO to learn more about this optimization strategy.
Local SEO Search Marketing Optimization Summary
I hope you enjoyed this guide on what is local SEO.
As you discovered, the basic definition for "what is local search" is using search engines to find products and services based on geographically constrained search criteria. And local SEO marketing is an optimization strategy that increases the visibility for a business in the Google Local Pack and Localized Organic results.
Now that you know more about what is local search optimization and how it works for ranking a business in the search engine, you can make better choices to make your business more findable online.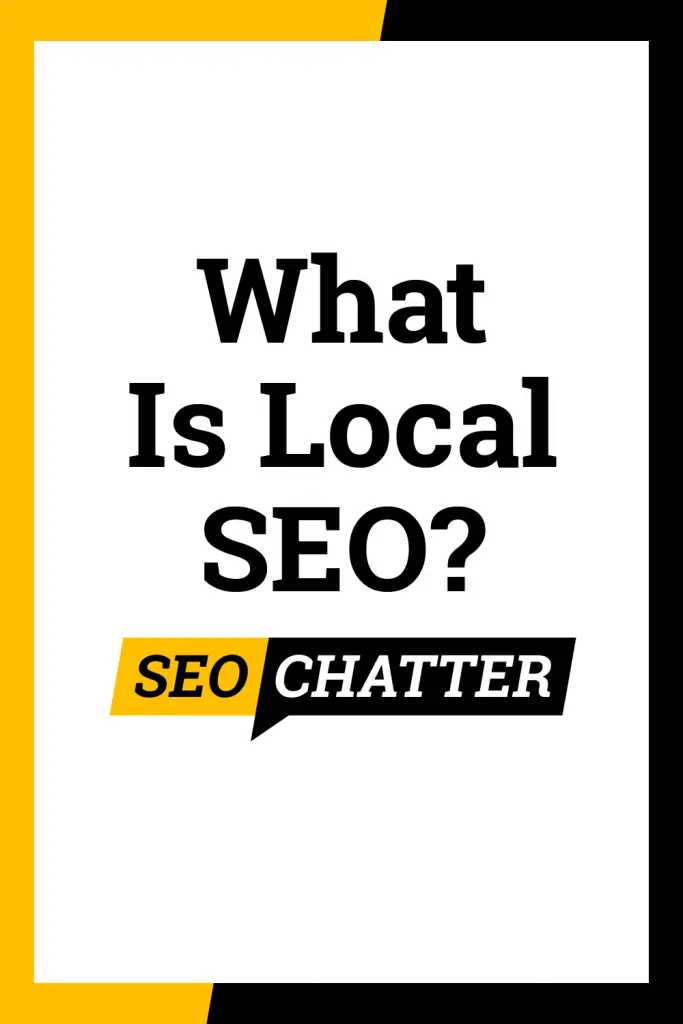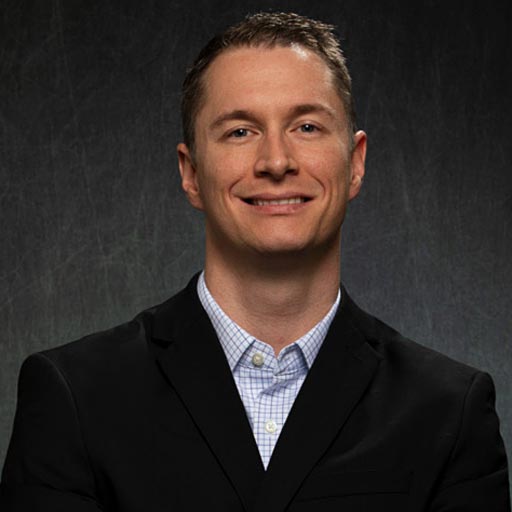 Stephen Hockman is an entrepreneur and founder of SEO Chatter. He specializes in search engine optimization and digital marketing and has been fascinated with SEO since 2005. His goal is to share the best tips and news about search engine marketing to help you get more website traffic.