In this Twitter SEO guide, you're going to learn everything there is about Twitter and search engine optimization.
In particular, you'll understand two important digital marketing strategies:
How to do SEO for Twitter so your tweets can get discovered by a wider audience on this social media platform. And how to use Twitter for SEO to increase the rankings of your website content in search engines like Google.
The fact is that Twitter can be a powerful platform for increasing awareness of your content and brand through strategic search engine optimization. And if you want to make the most out of your Twitter account so the right people see your tweets, then you need to start optimizing your profile and tweets for specific keywords, hashtags, and backlinks that matter most for your business.
In this ultimate guide below, you'll find the top Twitter SEO tips you can use to help your content show up more often in the Google and Twitter search engines.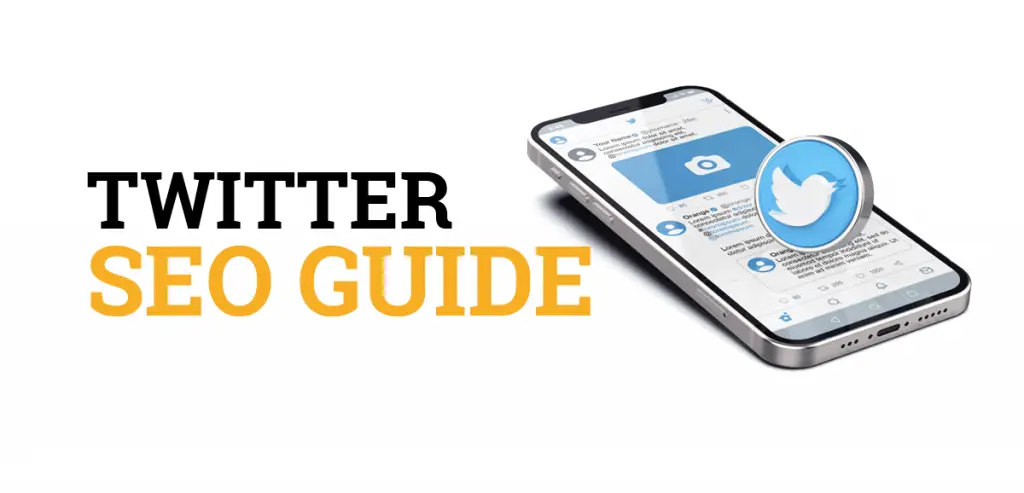 Twitter SEO Guide
1. Optimize Your Twitter Profile Name for SEO
The first SEO tip for Twitter is to ensure to use a keyword-rich name that accurately describes your business or brand. This can help your profile appear for relevant queries on the Twitter platform and in search engines like Google.
So consider using keywords in your Twitter profile name. For example, if you're a real estate agent in Los Angeles, you could include keywords like "Los Angeles real estate" or "LA real estate" in your profile name.
2. Optimize Your Twitter Description for SEO
Your Twitter profile description should also be optimized for SEO. Here, you can include relevant keywords so that people searching for those terms will be more likely to find you.
Again, using the example of a real estate agent in Los Angeles, you could include keywords like "buying a home in LA" or "selling a home in Los Angeles" in your Twitter profile description.
3. Include a Backlink In Your Description
You can also create Twitter backlinks for SEO. When creating your Twitter profile, be sure to include a backlink to your website in the description field. This will help improve your social media backlink profile and drive traffic to important URLs on your website.
4. Include a Backlink In the Website URL Field
In addition to including a backlink in your Twitter profile description, you can also include a link in the website URL field.
A pro Twitter tip here is to draw more attention to your URL by putting a call-to-action in the location field that appears to the left of the website URL. The location field can contain any type of text, not just a city or state, as well as emoji icons like arrows pointing to the URL.
(Note: If you want to learn about how to add backlinks on other platforms, check out this other guide on social media link building.)
5. Use SEO Keywords In Your Tweets
To improve your Twitter for SEO to show up for more relevant searches, you need to use keywords in your tweets. This will help people find your tweets when they search for those keywords on the social media platform and in Google when the content get indexed.
For example, the SEO Chatter Twitter account (@seochatterblog) always includes keywords like "SEO", "keyword research", "link building", and "backlinks" in every tweet so it improves the visibility for these types of queries.
6. Use Relevant Hashtags
You can also include relevant hashtags in your tweets so that people who are interested in those topics will see your tweets on both Twitter and search engines like Google.
For example, if you provide ecommerce services, then you could use a popular hashtag like #ecommercetips in your tweets to get more of your content found for those searches. Similarly, a hashtag like #seo is indexed regularly in Google and can cause your brand to appear at the top of the search engine results pages (SERPs) like you see in the image below: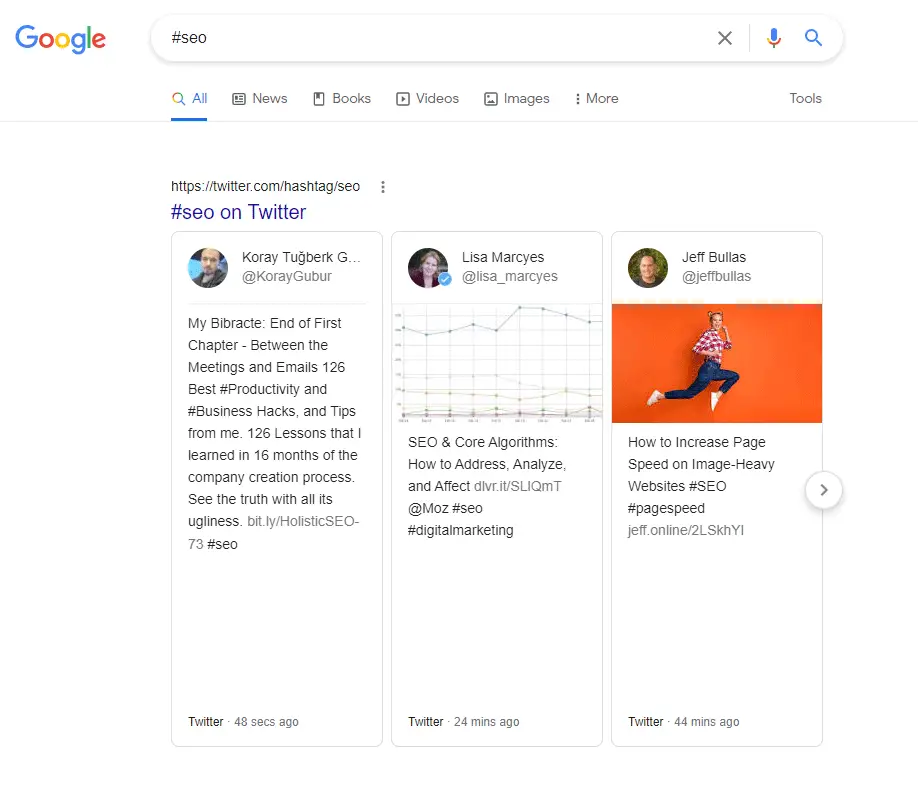 7. Add ALT Text to Your Images with SEO Keywords
Adding ALT text to the images you upload in your tweets is a great way to optimize for search engines and Twitter SEO. By adding relevant keywords to your images, you can help improve your SEO rankings on both platforms. Just make sure to describe the image accurately because the ALT text field is used primarily for screen readers to help people with disabilities understand the content inside Twitter images.
8. Share a Link to Every New Blog Post
Make sure you share a link to every new blog post on Twitter. This helps your audience stay up-to-date with your latest content and also gives your URL an instant backlink for SEO.
Additionally, URLs that are discovered on Twitter can speed up the indexing process in Google's search engine. If you ever have indexing issues with your URLs, a simple tweet link may be a quick way to resolve them.
9. Re-Share Evergreen Content
Re-sharing evergreen content on Twitter is a great way to keep your followers engaged and interested. By sharing content that is still relevant for months or even years after it was first published, you can help keep your Twitter feed fresh and interesting.
Another pro tip here is to rotate through different keywords and hashtags that appear in the description section of the tweet. Over time, you can associate the linked URL with a variety of main and secondary keywords in Google and Twitter's search engine to expand the total audience reach.
10. Retweet Content that Gets the Most Likes, Comments Or Shares
Retweeting content that gets the most likes, comments, or shares can help you reach a larger audience on Twitter with very little effort. By sharing content that is already popular, you can increase the chances of it being engaged with, and you'll also gain new followers as a result of this strategy because the tweet will show up in more feeds.
This is a common practice used by pro Twitter accounts. These digital marketing experts will retweet their most popular tweets in the morning, then undo those retweets at the end of the day. Pro Twitter users then repeat this process over and over again throughout the week to maximize as much exposure for their tweets as possible.
11. Add Relevant Links to Other Tweets
Adding relevant links in your replies to other tweets is a great way to drive traffic back to your own website or blog. By providing links to your content that are related to a tweet's topic, you can help your followers learn more about the subject, increase the number of backlinks from Twitter, and potentially expose your web pages to other influencers that may add an organic backlink to the URL in one of their own blog posts.
Just don't be overly promotional or post too many links in your tweet replies each day. Otherwise, your account may be penalized for spam and/or lose valuable Twitter followers.
12. Get a Google Twitter Carousel for More SEO Visibility
In 2015, the true power of using Twitter for SEO exploded when Google brought Tweets to its search engine. This meant that you could real-time content from Twitter right in the search results pages.
This rich snippet feature is called a Twitter Carousel in Google. And having a carousel of tweets can be very attention-grabbing for your brand because it takes up a lot of visual space on SERPs.
According to the Semrush Sensor, Twitter Carousels appear for about 6% of all Google SERPs across mobile and desktop search results. And when a Twitter Carousel is triggered, it can mean that a website URL in a tweet can be instantly displayed at the top of the search engine for competitive queries, which bypasses all other tactics used for SEO.
To get your content listed in a Twitter Carousel in Google's search engine and to create a dedicated carousel for your own brand, you need to make sure you have a Twitter profile with a strong bio, profile photo, and cover photo. You also need to follow these additional Twitter SEO tips:
Develop a Few Hundred Followers
While you don't need thousands of followers to get featured in the search results, it does help to have a few hundred engaged followers. One of the ranking factors for Twitter carousels is engagement. The more engagement your tweets get (e.g., likes, retweets, and comments), the more likely they will show up in the search results.
Tweet Consistently
To get featured in the Twitter Carousel, you need to tweet often. This doesn't mean you have to tweet multiple times every day, but you should be tweeting at least a few times per week. So stay consistent on the platform.
Use Popular Hashtags
Include popular hashtags relevant to your niche or industry to get your tweets seen for relevant searches that display Google's Twitter Carousels. This will help you reach a larger audience and increase your chances of being featured in the Carousel in the SERPs.
Engage with Other Users on Twitter
Twitter is a social media platform, so it's important to engage with other users if you want to succeed. This means liking and retweeting other users' content, replying to their tweets, and starting conversations.
By engaging with other users, you'll not only increase your chances of being featured in the Twitter carousel, but you'll also build relationships and grow your followers, which can lead to more organic backlinks that can improve your website's off-page SEO metrics.
Below is an image of the SEO Chatter's Twitter Carousel so you can see how it looks for a branded entity: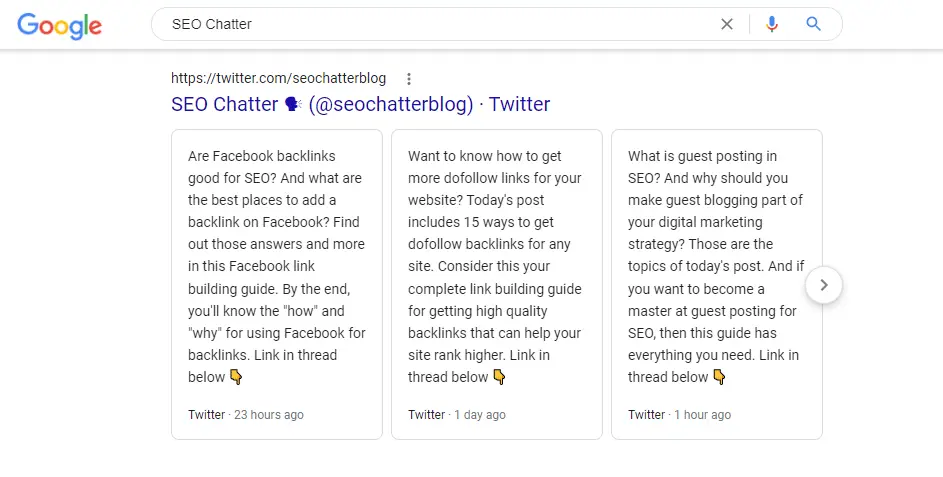 Do Twitter Backlinks Help SEO?
Twitter backlinks do help SEO because website rankings are dependent on backlinks and other SEO factors. When your site gets a backlink on Twitter, it can benefit both directly and indirectly for search engine rankings and website traffic.
This article on Semrush reveals the findings of five social media case studies on SEO, with one key takeaway being: "Tweets from power users may influence short-term rankings for certain keywords."
Additionally, the more of your target audience that sees your links on Twitter, the more organic backlinks you'll gain from other website owners that want to link to those URLs.
Do Retweets Help SEO?
Retweets do not help SEO by themselves to boost rankings in the search engines for your website; however, retweets are an important part of an SEO strategy to get your content and brand listed in Twitter Carousels that do appear in the SERPs.
Twitter SEO Summary
I hope you enjoyed this Twitter SEO guide.
As you discovered, you can use the power of SEO for Twitter to reach a larger audience on this social media platform as well as rank higher in search engines like Google for relevant keywords that matter most for your business.
Twitter is a great social media tool that can increase exposure for your website in many ways. And by understanding how the platform works and using Twitter SEO tips mentioned above, you can optimize your Twitter profile and tweets for better search engine ranking and increased web traffic.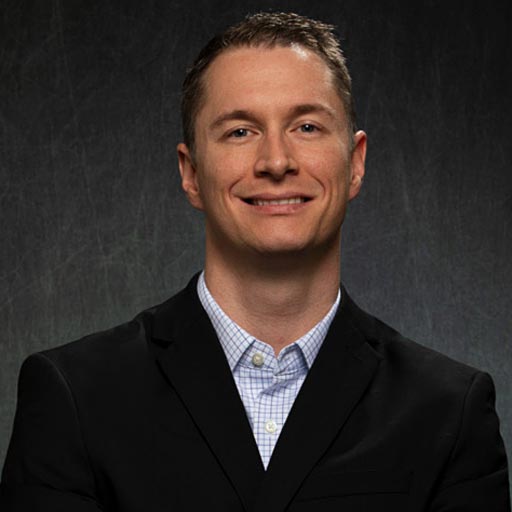 Stephen Hockman is an entrepreneur and founder of SEO Chatter. He specializes in search engine optimization and digital marketing and has been fascinated with SEO since 2005. His goal is to share the best tips and news about search engine marketing to help you get more website traffic.