When it comes to getting found on Google by your ideal customers (you know, the people who are most likely to whip out their wallets and buy your products or services?) there are a lot of factors that need to be taken into consideration. 
There's your website's speed, UX (user experience), backlink profile, and the power of its copy to name but a few…
But today we're going to focus on one of the most important aspects for not only getting found by your ideal customers on search engines, but converting them too and that's your SEO content marketing strategy. 
Many businesses simply treat their blog as an afterthought or a place to put relatively boring updates about their company without much thought about how to provide an insanely valuable resource for potential (and current) customers. 
That's not you though. 
You know that the content you publish on your blog can have a major impact on your business's success, which is why you've made your way to this article. 
Kudos! 
Let's dive in and see how to build out an SEO content marketing strategy that has you writing the strategic blog articles that boost sales, build your authority and reel in your target audience (without paying a cent for ads).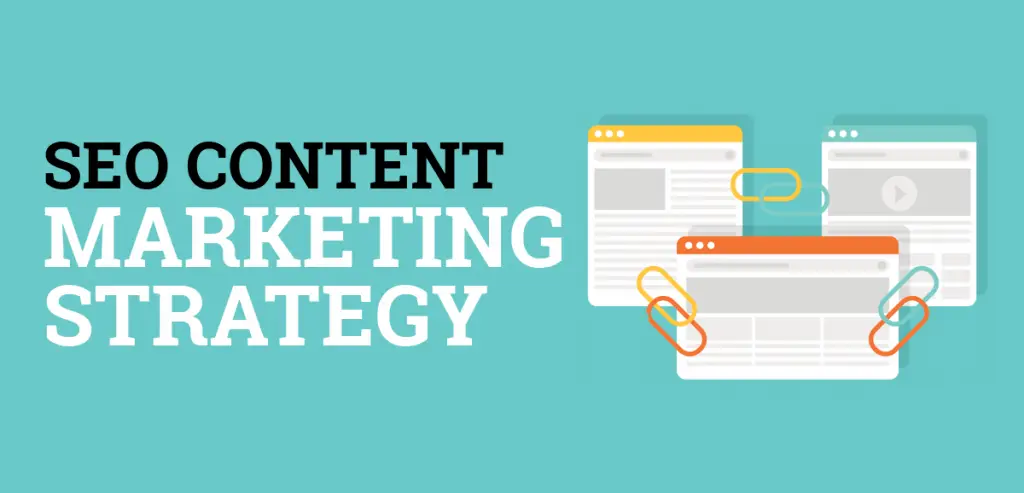 What Is an SEO Content Marketing Strategy?
I think of an SEO content marketing strategy as a subcategory of an overarching SEO strategy that relates specifically to your blog.
Its main goals will be to: 
Increase traffic to your website (by RELEVANT searchers—not just anybody) 
Increase conversions on your website (be that grow an email list, increase inquiries for your services and direct sales) 
Increase trust in your service or solution so people feel more comfortable buying from you 
Boost social shares to get more eyeballs on your website
The greatest benefit of having an SEO-based content marketing strategy is that it will help you gain traffic over the long term, whereas the shelf-life of social media content is usually much shorter, meaning that if you stop posting, your leads dry up. 
How to Build an SEO Content Marketing Strategy Step-by-Step
If you've ever struggled to stay consistent with your blog content it's probably because you don't have a clear understanding of what your audience needs from you, clear goals, and KPIs (key performance indicators) set for your blogging marketing strategy.
Don't worry though, we're going to see how to set content marketing goals, where to find inspiration, what type of content you should be writing, and how to tell if your efforts are working. 
Without further ado, here's my step-by-step process for building a solid SEO content marketing strategy. 
Step 1: Identify Your Audience, Their Customer Journey and Main Pain Points
You're probably familiar with the old "ideal customer avatar" exercise.
You know, that thing where you build out an imaginary ideal customer and add a stock photo of them onto a PDF and include information like where they eat breakfast and the like? 
I've never really found that useful to be honest, mostly because it was never based on any real data. If we want to really write content for real people then we need to understand who our ideal audience actually are. 
And I'm not talking about what they have for breakfast… 
Here are some questions you need to be able to answer before writing content: 
What real-world struggles do I help my target audience overcome? 
What are they currently doing to try and solve those struggles? 
Why are the solutions they're using right now to try and solve that problem? Why aren't they working?
What would it mean for them to overcome these struggles? 
What do they want to achieve by solving these problems?
How do they talk about these struggles in their own words?
You don't need to be a mind reader to get the answers to these questions. In fact, your customers are leaving you big fat clues all over the internet – you just need to do a little market research to unearth them. 
Here are some ideas on how to do market research for your content marketing strategy:
Hop on industry relevant Facebook Groups and read through the posts – see what questions people are asking 
Send out a survey: create your own survey and send it out to your email list. Keep questions open-ended and limit your questions to 10 max 
Hold customer interviews: nothing beats getting face-to-face (or zoom-to-zoom?) with past and potential customers to ask them about their struggles, what they'd love help with and what goals they have 
Step 2: Identify Your Content Marketing Goals & How You'll Track It
Now that you've got some killer market research, it's time to think about what type of goals you want to set for your content. How will you know if your campaign is successful if you don't have solid goals and KPIs? 
I'm an arty-farty creative person, but I'm lucky enough to be married to an engineer who keeps my feet on the ground. That's why I know that before you set goals (especially if you're going to set specific metrics for your KPIs) you need a period of observation. 
Check your Google Analytics and take stock of how your website is currently performing in terms of traffic and conversions over the past 3 months or so. 
Let's say right now your website gets 400 visitors a month from organic search on average. 
It would be pretty unreasonable then to set a goal of gaining 5,000 visitors a month on average within the next 3 months. 
This will also affect your goals for your conversion rate. 
Again, measure your current conversion rate and then find out what your industry's benchmarks are. Use this data and the traffic increase goals you'd like to see to help you work out an attainable conversion rate that isn't unrealistic.
Here are some other goals that your content marketing could include: 
Build links to your website 
Increase social sharing 
Increase time spent on your website 
Increase email sign ups 
Boost enquiries for your services 
Reduce bounce rate 
Ranking for specific keywords that will help you pull in relevant, highly targeted leads to your website 
Your main tools for measuring these goals will be Google Analytics and Google Search Console but if you want to use premium SEO tools you could also use SEMrush or Ahrefs. 
Step 3: Start Strategic Keyword Research
Thanks to all that market research you've done you should be able to have a pretty solid picture of what struggles your target audience is having. 
Use that as a basis to start your keyword research.
Keywords are what people type into Google to get answers and keyword research is the process of finding great, relevant keywords for our content that will help connect us to our ideal customers. 
You can use an awesome freemium tool like Keywords Everywhere to build a list of potential keywords for your content. 
But one big struggle that my clients and students have is that they have no idea what keywords are too competitive for them to try and rank for. And is it worth targeting keywords that don't have a lot of search volume.
If your website is relatively small or new here are my top tips when it comes to choosing keywords for your content. 
Top tips for keyword research: 
Low volume, "long-tail" keywords are far more valuable than trophy keywords (or short-tail). These tend to be highly specific, bringing in better leads and you actually stand a chance at ranking for them.
Try and target keywords that have an "off-page SEO difficulty" (a metric used by Keywords Everywhere) that's below 50.
Make sure you Google your keywords before committing to them! Sometimes keywords don't mean what we think they mean or the type of content that's most appropriate for that keyword (for example, a how-to article) isn't the type of content you want to write.
Check what the top ranking pages are ranking for using Keywords Everywhere – this can give you a whole bunch of longtail keyword ideas.
Take my free 5 day email course: Keyword Research Fundamentals to set you up for major success 😉
Step 4: Create a Topic Cluster
One great way to build a highly strategic content marketing plan is to create what's known as a topic cluster.
A topic cluster strategy is a collection of articles built around one main topic. They'll have a main 'Pillar' or 'Cornerstone' piece of longer form content that usually covers a high-level, top-of-funnel type question such as, "How to Become a UX Designer". 
This main article will link out to many smaller, more niche articles that will help guide prospects through the stages of awareness and prepare them for a conversion. You can read this related guide on how to write SEO friendly blog posts to make sure your content cluster is well-optimized to rank high in the search engines for your target keywords.
These other articles are also great pieces of searchable content in their own right and will pull in targeted leads to your business. 
Having one is awesome for SEO because it creates a fantastic internal linking structure and helps you rank for a ton of keywords related to your niche. (And if you want help with this type of thing to speed up the entire process, I offer a done-for-you topic cluster strategy service for 10 or 30 topic cluster articles.) 
If you can, the keywords you target for your topic cluster articles should be in a type of hierarchy. For example, your cornerstone piece targets your most ambitious keyword and the other, smaller articles target longer-tail keywords. 
Here's a quick visual example of a small topic cluster around the topic "How to Become a UX Designer": 
The main cornerstone article is in the center, with the smaller, more specific articles branching out along the sides.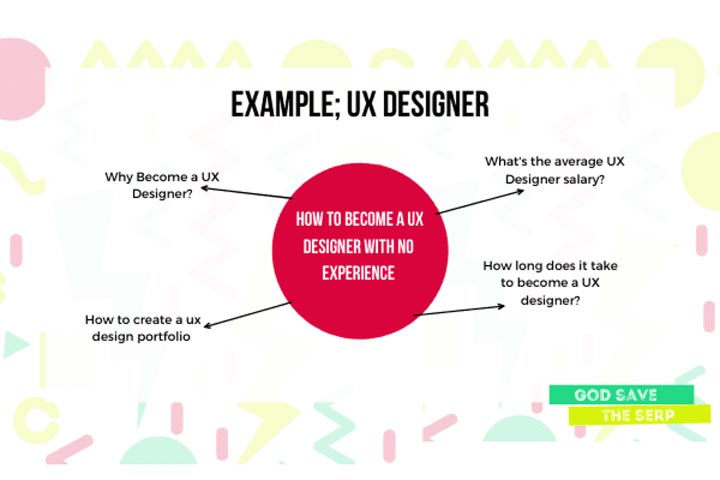 As part of your topic cluster don't forget to include some "bottom-of-the-funnel" articles that are best at driving direct sales. These can include case studies and "Best of" articles where you can directly compare yourself with competitors (for example; "Best UX Designers in Chicago"). 
You'll also need articles that will specifically help you generate more social shares and encourage others to link to your site. Collaboration and review articles are great for generating social shares and piggy-backing on someone else's audience. 
You could do an advice round-up article where various experts in your industry give their opinion on a topic. Get in touch with them once the article is published and ask them to share it on their own social and email platforms. 
Step 5: Have a Plan to Measure Results
Okay, we've covered a lot. 
Once you've planned, written, and published your content you're going to want to check how your KPIs and content marketing goals are performing and that means you need to look at the data. 
A great way to track content marketing goals is to set up goals and events within Google Analytics and track where those goals/conversions are being made. 
For instance, if you want to increase the number of people who fill in your contact form you can set that up as an event in Google Analytics. 
You can then track what pages are sending the most traffic to that contact page. You can see if your content is making any impact in this sense by checking if people are going from a piece of content to your contact page. 
Make sure your Google Analytics and Google Search Console are all properly set up so you can make the most of these free tools to measure your results. 
Here are some helpful tools that will help you track your SEO content marketing goals: 
Buzzsumo: a content marketing platform that can help you follow things like how many social shares your content is generating 
Google Analytics: all of your website's data is one free hub. You can measure things like bounce rate, conversions and a host of other content marketing goals 
Google Search Console: track how well your website is performing on organic search (for free). It's a great tool to see if your content is ranking for your desired keywords and which pages are performing best/worst on search
SEMrush: a premium SEO tool that can help you track things like link building campaigns, site-health, how you're performing against your competitors and keyword rankings 
Ahrefs: another premium tool that offers the same features as SEMrush but the basic plan is a little cheaper 
Ready to Build Your SEO Content Marketing Strategy?
We all love diving into creating content and we spend a scandalous amount of time setting our goals and getting lost in things like keyword research.
But I would strongly advise you to spend the most time getting to know your audience. Only then will you be 100% sure that you are creating content that is actually valuable to them to get the best results from your new SEO content marketing strategy.
You need to see, above all, how they are talking about their struggles in their own words in order to be able to do great keyword research and curate content for them that will actually make an impact. 
Happy content marketing!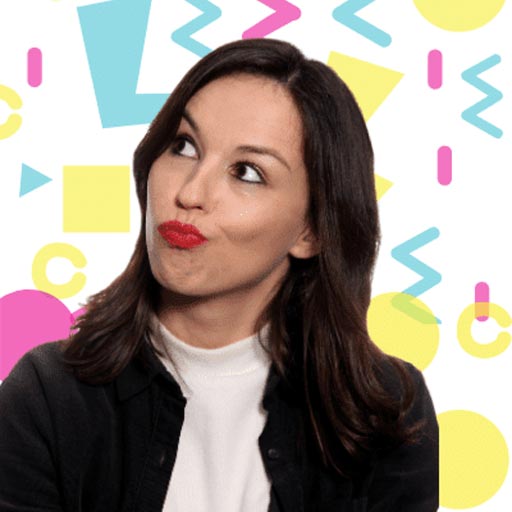 Kerry Campion is an SEO copywriter and founder of God Save the SERP. When she's not knee-deep in analytics and writing copy, she's out wandering the woods with her German Shepherd, Kira and making ridiculously tasty veggie food.