SEO experts are sharing their theories and recovery strategies for the September 2023 Google Helpful Content Update after conducting analysis on negatively affected sites.
---
Highlights
SEO experts have analyzed the fallout from the September 2023 Helpful Content Update.
Theories are being revealed about what Google targeted in the update.
Strategies are being shared in the SEO community to help guide site owners on how to recover a negatively impacted site.
---
The latest theories and website recovery strategies for the September 2023 Google Helpful Content Update are now being shared by SEO experts who have analyzed the impact across their own websites and client sites. The update was completed on September 28, 2023, with a large number of websites being negatively affected in Google search results; some losing between 20-80% of organic search traffic.
According to Google's Helpful Content System documentation, the Helpful Content System generates a signal (or classifier) that is used by the automated ranking systems to better ensure people see original, helpful content created for people in search results. The Helpful Content System aims to better reward content where visitors feel they've had a satisfying experience, while content that doesn't meet a visitor's expectations won't perform as well.
Many website owners are looking for theories on what the September 2023 Google Helpful Content targeted and how to recover from a negative classifier applied to a site, which SEO experts are now sharing based on their analysis.
Google Helpful Content Theories and Analysis
Callum (Callie) Scott's Theory and Analysis
Callum (Callie) Scott, co-founder of Blue Orchid Digital, who addresses traffic drops for a living, commented on this X post as a reply to Mike Futia, creator of NicheFinder.io, who posted a screenshot of a site that received a massive boost in rankings from the Google Helpful Content Update (HCU) while also saying: "a 'negative-only' classifier doesn't pass the sniff text" of the. Futia was referring to some sites receiving a "positive classifier" that leads to higher search engine rankings. A common theory being floated around for the HCU update is that the system only applies a negative classifier to sites.
Scott said in response: "Unless you are providing a data set with over 100k sites and 1mil keywords minimum then you can't make any claims. I assess traffic drops for a living. The vast majority of HCU drops have been 1-3 positions on average for a sites negatively impacted keywords."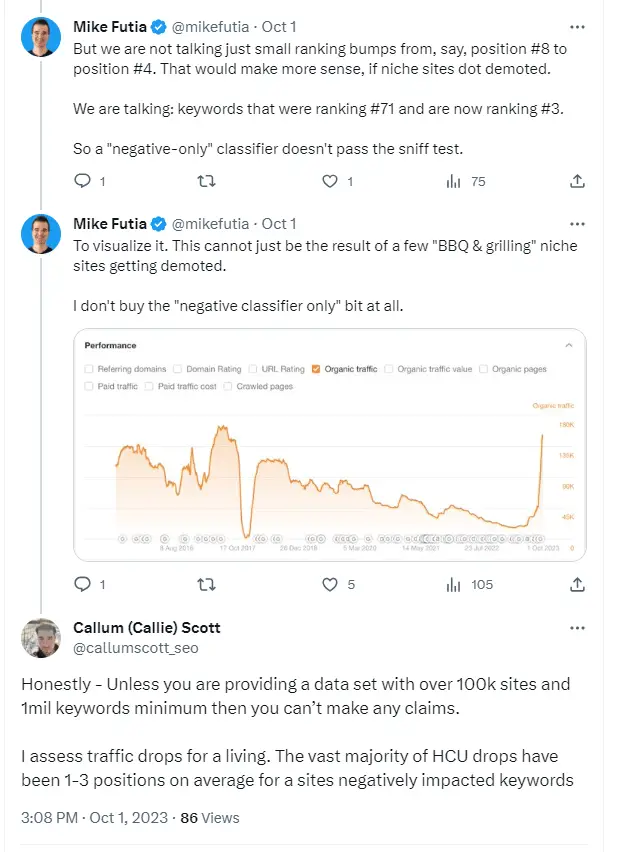 I jumped into the conversation to ask Scott what a recommended strategy would be for a website to recover from a ranking drop after the September 2023 Google Helpful Content Update.
"It will depend on the site and the drop," said Scott. "You are aiming to get the classifier removed, so identify the content being assessed as low quality and try to improve it. The difficulty though is that Google is not assessing content as low-med-high quality as we would."
After a series of follow-up questions, Scott also said:
"They [Googe] are using ML to find patterns that happen to correlate with what their control groups say is unhelpful/low quality content. So, the signal that is flipping the switch for you is unknowable… and might be completely irrelevant. The other difficulty is that the classifier is a dampener so identifying specific keywords to work on is near impossible."
Scott concluded our conversation on X by saying:
"So there is no 'evaluating the content of the page' as far as we know – unless they have added that to the documentation… been a while since I looked at it. Tbh [to be honest] it is just a modern, more sophisticated version of Panda I reckon."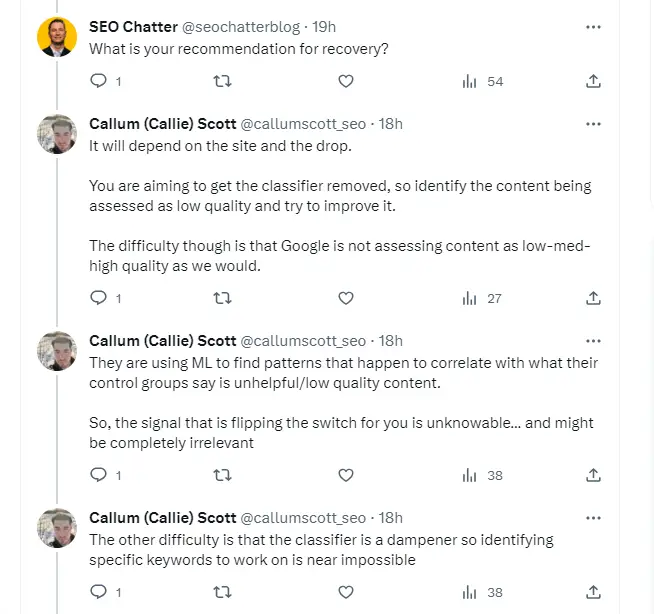 Lily Ray's Theory and Analysis
Lily Ray, Senior Director of SEO and Head of Organic Search at Amsive Digital, has posted several threads on X with theories and analysis from the September Google Helpful Content Update.
Ray and the Amsive team have analyzed many sites that were impacted negatively by the algorithm update and are offering a mini audit service for affected site owners to get clearer insights on steps they can take to reclaim lost rankings in Google Search.
Ray shared a post by Peter Mindenhall, an in-house SEO for a large number of travel sites, with this comment on X:
"Yeah it's pretty mind boggling (but not entirely surprising) that so many are responding to the HCU by looking at individual issues on individual websites/pages in order to find a "silver bullet. Patterns, people. Site. Wide. Update."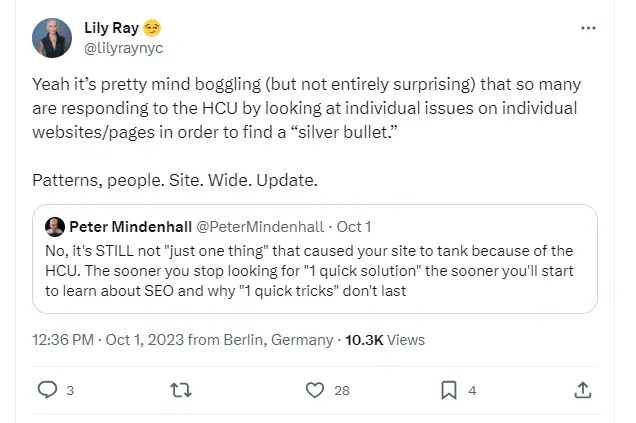 In a back-and-forth conversation with Mike Futia on the X post, Ray expanded on her theory and analysis of the September 2023 Google Helpful Content Update by saying:
"I mean even looking at 25, 50 of the affected sites with a human eye (and a lot of experience) the patterns are overwhelmingly obvious to me. More so than any algorithm update since the Medic update. But I think many people are not able to see their own sites objectively."
After reading Ray's posts on X about the latest Helpful Content Update, one of the key takeaways I found that Ray expressed was that Google is running an algorithm system that checks multiple pages on a website, and if most of that content is unoriginal (e.g., regurgitated or paraphrased from other sites), then the whole website gets demoted in Search. Google's Helpful Content System seems to be able to tell that there is a site-wide lack of information gain on a variety of topics, indicating the authors are not experts on the subject matter; resulting in a negative classifier applied to the site and lower overall rankings in Google Search.
Ray did offer a gleam of hope for site owners who think Google got things wrong with the latest Helpful Content Update with this X post:
"If enough actual searchers (not just website owners, marketers and bloggers) think the search results after the HCU are bad or unhelpful, Google will update its algorithms and the rankings will change, just like they always have. Google's work is never done."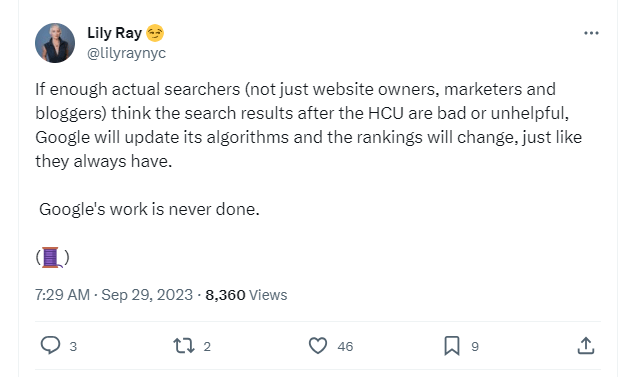 Ray also said there are some obvious insights that can be gained about what Google was aiming to do with the Helpful Content Update (HCU), including:
The HCU is a negative ranking signal for sites.
Sites are taken out of consideration for ranking high on Google Search because they hit a threshold of unhelpfulness.
Just because you think your content is helpful, doesn't mean everyone else does.
Sites that are created just to make money and not provide real value to users will have a tougher time ranking high in the search results and/or keep those existing rankings over the long term.
If you're serious about your product (i.e., website), you can learn from this growth opportunity. Stay focused on providing real value and your site could be rewarded in the future by Google in the search results.
Ray also reminded site owners on this X post that even if you are doing things correctly now on your site, having a large bulk of previously published low-quality content sitting on the domain could be dragging it down.
"And as Google says, the bigger the problem, the more impact the signal can have on your rankings," said Ray. "For those who have been publishing content for 5-10+ years maybe consider taking a step back and looking at the overall quality of your entire site. Were you really focused on E-E-A-T with your content from 5 or 10 years ago? Everyone always has room to improve their existing inventory of content, including the big sites."
Marie Haynes Theory and Analysis
Marie Haynes, CEO of Marie Haynes Consulting Inc., is another SEO expert who shared theories about the Google Helpful Content Update in September 2023. After doing some advanced analysis with ChatGPT on sites submitted to Haynes that were affected by the update, Haynes summarized the findings in this X post:
"My thought: Our standard process of how SEOs do keyword research has likely caused us to create copious amounts of content that is essentially copying what already exists online. We're writing for search engines rather than truly trying to meet needs for our audience that aren't already met online. We find keywords our competitors are already ranking for and create more content on that topic. We look at the PAA's to find more questions related to our topic – that Google already has content on. We do content gap analysis to determine which content our competitors have that we have not already covered. And then create more content that already existed! Seeing more and more evidence of Google elevating content that is borne from expertise rather than content that looks relevant to search engine algorithms."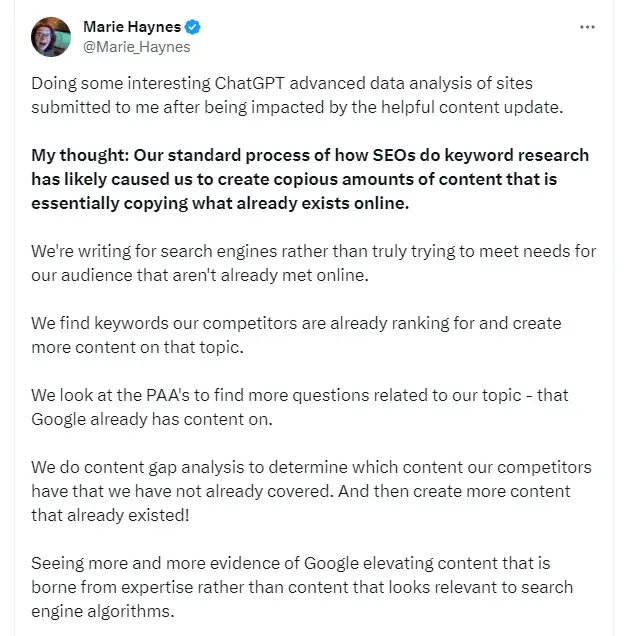 After reading Haynes's HCU theory, I commented on the post about my own experience trying to write helpful content for the SEO Chatter blog and not being rewarded for it by Google during the latest Helpful Content Update in September 2023.
I explained to Haynes how I had written hundreds of articles in 2023 for specific keywords without analyzing Google's top 10 ranking pages for those keywords. When writing the content, I had a "people-first" approach. I included everything the reader should know about the topics without any extraneous "fluff". I broke down each subtopic into its own separate post to tightly match user search intent instead of writing one mega article that covered every subtopic on the page.
Haynes replied: "Your content was made by trying to determine what search engines didn't have and writing something that is likely to rank. Although you've got people in mind your purpose is to write for what Google wants. You're writing search engine first content. Meanwhile this week I wrote several pieces of content that my audience is eating up because it answers their current questions and needs. I didn't do any keyword research. It was borne from the needs of my audience. It's much more likely to be seen as helpful by Google."
Haynes also posted a screenshot that includes the following points from Google's Helpful Content guidelines about how to avoid writing search engine-first content:
Is the content primarily made to attract visits from search engines?
Are you producing lots of content on many different topics in hopes that some of it might perform well in search results?
Are you using extensive automation to produce content on many topics?
Are you mainly summarizing what others have to say without adding much value?
Are you writing about things simply because they seem trending and not because you'd write about them otherwise for your existing audience?
Haynes has written an in-depth article on Google's Helpful Content System and sells a Helpful Content Workbook based on years of intensive study of Google's algorithms. The book is aimed at helping people create the type of content users and Google considers the most helpful of its kind so it can rank well in the search results.
Glenn Gabe's Theory and Analysis
Glenn Gabe, SEO Consultant at G-Squared Interactive, is heavily focused on Google algorithm update recovery and technical SEO audits. In a post on X, Gabe links to an article he wrote that theorizes Google's announcement in April 2023 about adding a page experience section to the Helpful Content guidance may have foreshadowed the impact we are seeing from the September 2023 Helpful Content Update.
Gabe summed up the findings in the article like this: "Based on what I'm seeing with sites heavily impacted by the HCU, and what Google explained in its April documentation update, the combination of unhelpful content and poor UX can be an extremely problematic combination for site owners."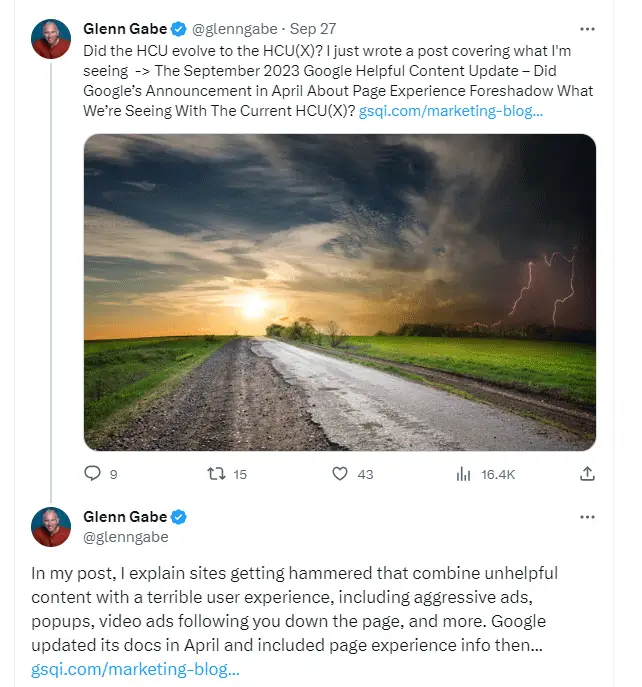 A common thread Gabe has seen on many sites impacted by the HCU is a terrible user experience. The ad situation is severe on many of the sites. Users are being bombarded with ads all over the page, auto-playing video follows you as you scroll down the page, and you might be hit with intrusive popups. This is same the type of aggressive, disruptive, and even sometimes deceptive, advertising situation that was penalized during the Google Panda Updates dating back to 2011.
Gabe highlighted several points for website owners to consider from Google's documentation on understanding page experience in Google Search results:
Does content display well for mobile devices when viewed on them?
Does the content lack an excessive amount of ads that distract from or interfere with the main content?
Do pages lack intrusive interstitials?
How easily can visitors navigate to or locate the main content of your pages?
Is the page designed so visitors can easily distinguish the main content from other content on your page?
"Again, I am NOT saying UX alone is going to get a site hammered," Gabe said. "Google is using machine learning with the HCU, which means it's sending many signals to the machine learning system, which dictates weighting of those signals, which ultimately dictates rankings. But the addition of this information in the helpful content documentation, and seeing those horrible UX situations across many sites impacted, has me thinking the two are connected."
Gabe also reminded readers that a site negatively affected by the Google Helpful Content Update cannot recover quickly. Google's Helpful Content System, which runs in real-time, needs to see significant changes to the helpfulness of the content site-wide over a long time period (perhaps months) in order for the HCU classifier to be dropped.
Gabe's best advice for recovering from the Helpful Content Update is this: "If you have seen heavy impact, then you will need to work hard on improving both your content and the user experience."
Alicia Gilbert-Marshall's Findings
Alicia Gilbert-Marshall, SEO Director for Trendy Minds, dug through the data for a site that was impacted by the September 2023 Google Helpful Content Update and reported the findings on X.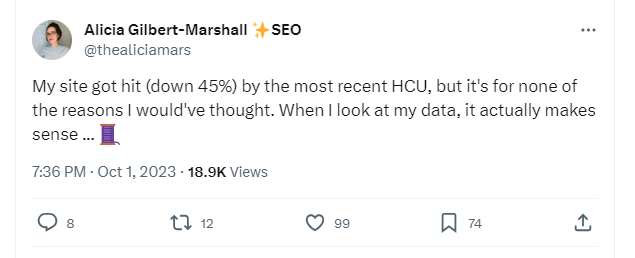 Here is Gilbert-Marshall's complete thread of HCU insights:
"Looking at pages with the biggest click loss WoW and drilling down at the query level, I didn't lose many (if any) clicks or positions in the SERP for the primary query my page targeted. Here's what I did lose.
"A few clicks here and there from MULTIPLE tangentially related queries for which my page had little or minimal relevance. But multiplied many times over. So prior to the HCU, I was getting impressions and clicks for things I hadn't intentionally targeted. A LOT…
"Did I also get bumped out of position #2 down to position #3 for a Quora forum from 2014 a few times? Yep. And that has done some damage, too. But by in large, I've lost 1-2 positions TOPS for queries I wasn't targeting anyway, but…
"it happened A LOT (remember, I'm down almost 50%). Did I lose to websites with stellar E-E-A-T and authority? Meh… 8 times out of 10, no. (Though it did happen). Here's where I lost the most…
"1. Broad queries. I would have a post targeting "Is X dangerous?" and I dropped for "What is X" or just "X" queries that I had previously had higher positions for. And I dropped to posts that specifically targeted those queries…
"And honestly, those broad queries have more search volume, so there's that…
"2. Keyword variations. Let's say I had a post (I don't) called "Dumped Then Blocked: Blah Blah." I moved UP for "dumped then blocked" but lost for "dumping and blocking" to posts specifically targeting the -ing version in the title tag and URL…
"Did I get bumped by better sites? Sometimes it would be a Wiki level page, but mostly they are comparable sites with a combination of fresher content OR exact match titles. They do not appear high in the SERP for the exact match variation I still rank well for tho…
"Anyways, my point is there is a lot of nuance to this update that I don't see discussed right now. My site is not perfect or 100% solid on E-E-A-T, but neither are 70% of the sites I'm playing musical chairs with in the SERP."
Google Helpful Content Recovery Strategies
Several SEO experts and site owners who were not negatively impacted by the September 2023 Google Helpful Content Update are offering words of advice for the website community on how to recover from this update.
Sammie Ellard-King's Recovery Strategies
Sammie Ellard-King, founder of Up the Gains (a financial literacy website) listed out all the things implemented within the last few months in an X post, that may have protected the site from the latest HCU:
Author box at the top of the article – Are you a real person? If so link all your pages in the schema (LinkedIn, Facebook, Instagram, Google my business)
If you're not a real person – sort this out asap man it's not USA vs China out here it's the internet. Get over it.
Do you have a Google My Business account? – if not set one up – if yes update it.
Do you have a business ID, address and contact information.
In your articles add a Quick overview box at the top giving the answer immediately plus valid reasons to stay on page.
Put videos high up on page after main introduction (it doesn't have to be your video – but it helps).
Unique data (take 2/3/4 reputable sources add numbers together to create new data or new perspective).
Custom graphics (images searches up 44% MoM) – I use Canva Pro and Photoshop.
Hot tips section (I add personal hot tips to important areas of the page to throw out EEAT signals).
Page design, think about text size and layout, does it actually look nice and is it easy for the user to read – walls of text are a no no – I have one sentence sometimes 2 per paragraph
Link clusters together naturally.
Use variations of anchor text – ideally no more than x1 repeat.
Plan ahead what's next and where does it link to and what links to it.
Homepage not a blog roll it's a well thought out page with sections, links and hub pages to important areas of the site.
Nav bar is not stuffed it's a map to the entire site.
Add a shop even if it's just a small one with an ebook on – this is a big signal you're a real business.
Does your site feel like a brand or a blog roll? If the latter do something about it and stop cranking out new content.
No page goes 6 months without a deep dive and check over.
Don't write new content if you can't handle the amount of updating that's required on old content.
You should also be ranking your current content before blasting through the next cluster (if over 100 articles).
I always find something new to add when updating – if you can't then re-optimise current text so it reads better for the user.
Update the data based on latest figures.
Change title and optimise for CRO.
Add a new image or two.
Blair McGregor's Recovery Strategies
Blair MacGregor, an independent search analyst, recommends content pruning in this post on X to help recover from the Helpful Content Update: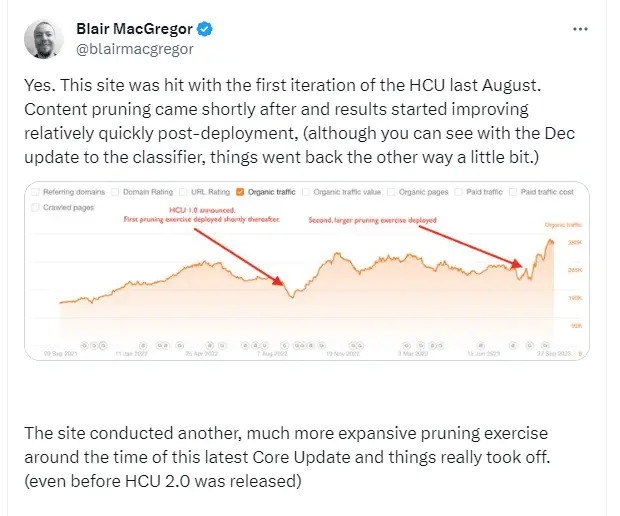 MacGregor said a lot went into the decision-making process that other site owners can gain insights from for HCU recovery. And, like any SEO tactic, your mileage will vary depending on your site's needs, goals, and where you stand in the market.
MacGregor also said to ignore people who tell you "just delete old stuff!" There's a lot more that goes into the process of content pruning, such as:
Start by auditing the entire site.
Determine if the content is in the "sweet spot" of expertise and experience or if it ventures too far out of the site's "lane". If the latter, remove it.
Assess if the content is actually important to users and worth keeping.
Analyze if the content is useful, in any way, along the buyer's journey to capture leads or conversions.
Measure the revenue generated by the content to see if it is worth keeping.
Make sure the content is meeting user intent.
Keep the content updated so it says fresh.
Julian Goldie Recovery Strategies
Julian Goldie, founder and CEO of Goldie Agency, recorded a YouTube video that showed findings from the Helpful Content Update based on Goldie's public case study niche websites. Goldie's recommendations for recovering from the Google Helpful Content update include:
Display credentials prominently on the site.
Create original content.
Reduce ad frequency.
Take advantage of User Generate Content (UGC).
Show author bios with expertise.
Avoid generic website themes.
Limit topics to the core area of expertise.
Create and post case studies, if applicable to your niche.
Have a massive mindset switch from creating "good enough" content to being a top authority in your niche with the highest quality content possible that is difficult for others to copy or compete against without real experience or expertise.
Summary
After conducting analysis on sites that were negatively affected by the Google 2023 Helpful Content Update, SEO experts have discovered patterns that indicate what factors may have attributed to a loss in search engine rankings. These experts have a variety of theories for the Google Helpful Content Update which all point to a similar recovery strategy: do everything you can to adhere to Google's Helpful Content System guidelines.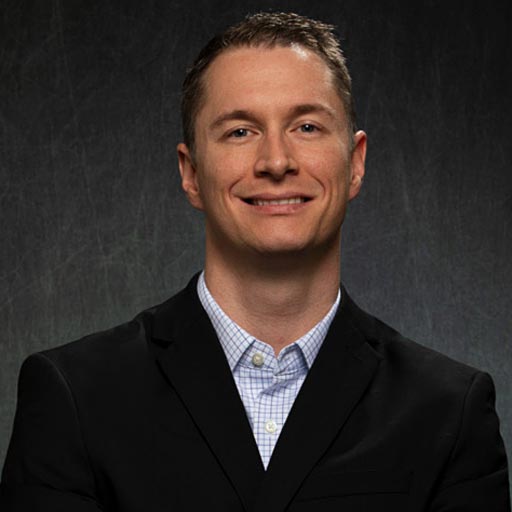 Stephen Hockman is an entrepreneur and founder of SEO Chatter. He specializes in search engine optimization and digital marketing and has been fascinated with SEO since 2005. His goal is to share the best tips and news about search engine marketing to help you get more website traffic.