As you learned in the last section, there are three important keyword metrics you need to consider when selecting the best search terms to target on your website. And the only way to get that full range of data is to use a good keyword research tool.
Now, if you were to do a search on Google right now for the phrase "keyword research tool", you would find more than 100 different options that promise to help you find great keywords to target for your website. But there are a lot of inefficient tools out there that don't give you everything you need to make the right data-backed decision for your website.
The two most common metrics missing from a lot of keyword research tools on the market include the keyword difficulty (KD) score and cost-per-click (CPC) value. Some tools may have one or the other but not both. And you don't want to waste money on a tool that doesn't have all three important keyword metrics: search volume, KD score, and CPC value.
Keep in mind that some keyword research tools do have their own proprietary version of the KD score and label it by another term, such as SEO score, difficulty rating, etc. Also, the pricing for keyword research tools is all over the place with many of them being quite expensive. Some software even has extra features that are completely unnecessary for the average blogger or website publisher but serve as a way to justify the higher cost. Fortunately, you don't need to spend a ton of money on a keyword research tool or waste a lot of time trying to figure out which software is going to be the best to help you find perfect keywords for your website. 
After being in the SEO industry for 15+ years, and testing numerous types of software, I've discovered there are three powerful—and inexpensive—keyword research tools you can use to find great terms to target on your website. In fact, these are the same tools I use on a daily basis to find the best keywords for my own articles. So you know they've been fully tested and guaranteed to include the most important keyword metrics you need for success.
Below, you'll find out what those keyword research tools are as well as the top benefits each one has to offer so you can decide for yourself which one you want to use moving forward.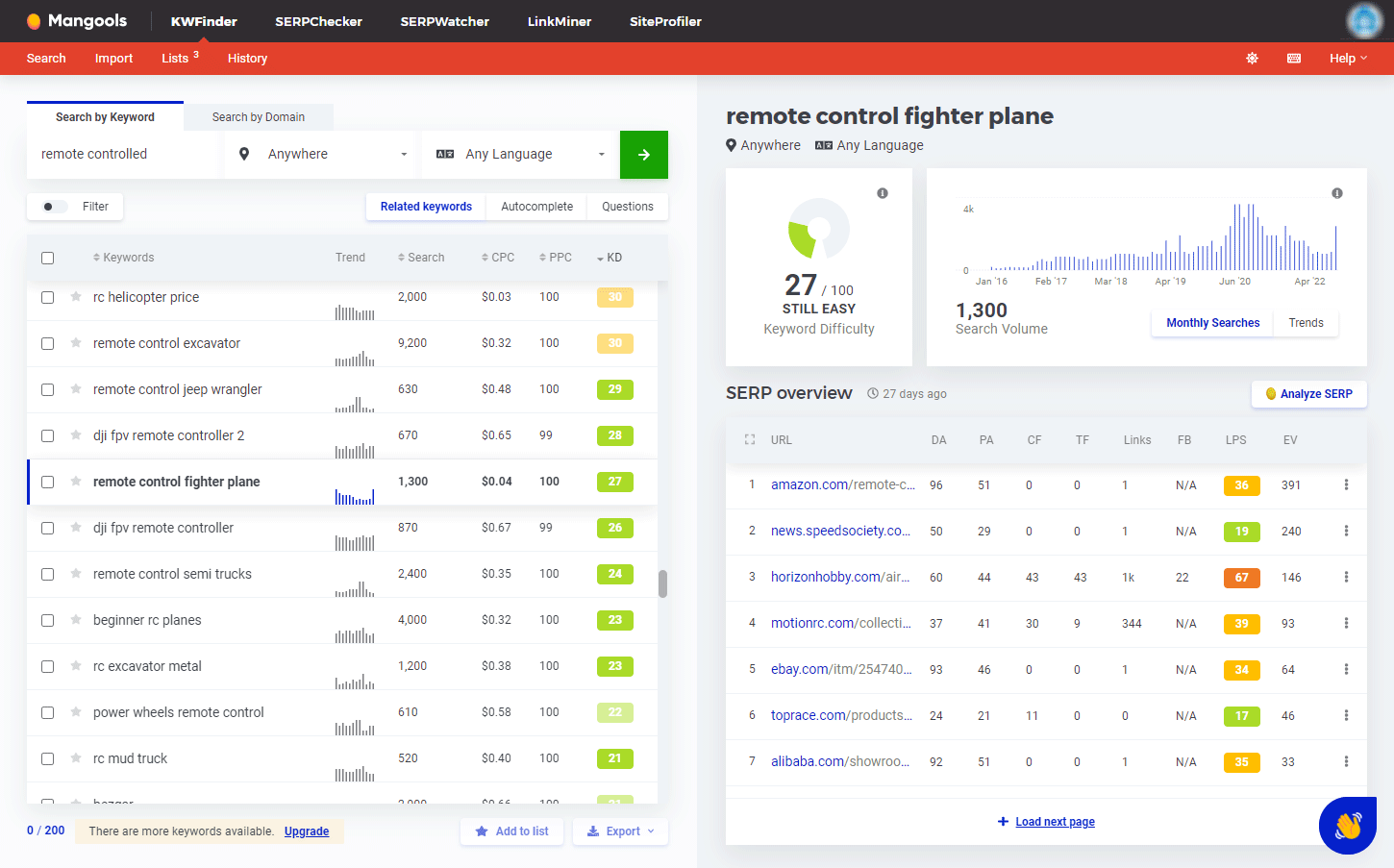 KWFinder
KWFinder is my favorite keyword research tool that's offered by Mangools. I use it for every keyword research task because it allows me to find the best terms my target audience is searching for on Google and quickly analyze the most important keyword metrics to help build out a monthly content publishing schedule.
KWFinder also comes bundled with a full suite of other SEO analysis tools at a very affordable price. It can take care of most, if not all, of your SEO exploration needs as a website publisher. And in my opinion, you don't need any other extra tools as a blogger, niche website builder, or affiliate marketer if you invest in the Mangools SEO suite. It includes LinkMiner (for backlink analysis), SERPWatcher (for keyword rank tracking), SERPChecker (for analyzing the SERPs), and SiteProfiler (for analyzing important SEO metrics and getting content insights) in addition to KWFinder (for keyword research).
Top Benefits of KWFinder:
Search volume data can be switched between the last 3, 6, or 12 months.
Keyword difficulty (KD) score uses a color code for each difficulty level to make it easy to find low-competition keywords fast: Green for easy, Yellow for possible, Orange for hard, and Red for very hard.
Each keyword displays a SERP overview with the top 10 ranking URLs along with key SEO metrics like Domain Authority, Page Authority, Citation Flow, Trust Flow, Number of Backlinks, Link Profile Strength, and Estimated Visits Per Month.
Offers 3 ways to research keywords: Related Keywords, Google Autocomplete, and Questions.
Includes a search volume trends graph for each keyword so you can view user interest throughout the year.
I encourage you to try KWFinder for FREE to experience firsthand everything it has to offer you through my affiliate link here: seochatter.com/kwfinder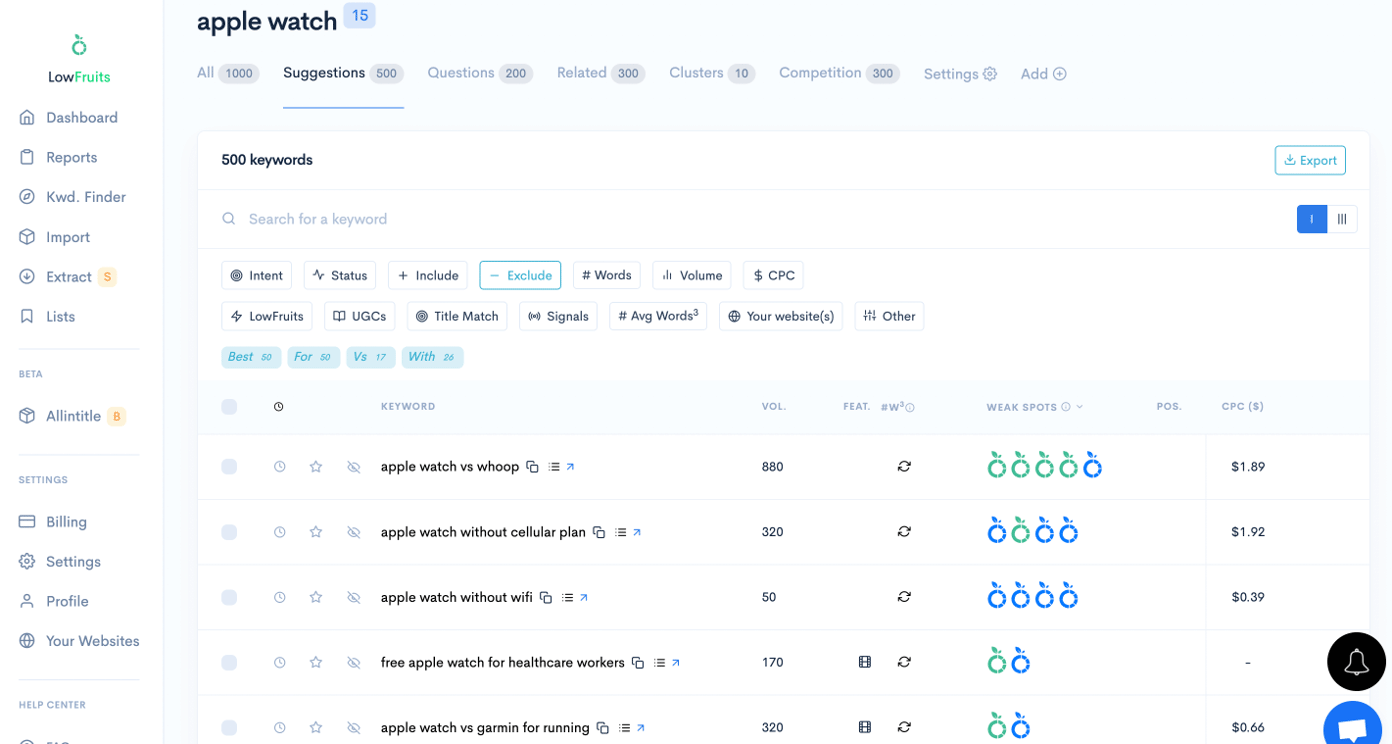 LowFruits
LowFruits is another favorite keyword research tool of mine that helps you find keywords where you have the easiest chance to rank in the top 10 positions on Google. It literally removes all the guesswork and time-consuming tasks of digging through hundreds of keywords to find quick wins for SEO rankings and traffic.
This tool fetches the top-ranking URLs and shows you how many weak websites are in the top positions. Typically, these sites contain User Generated Content (UGC), like Quora or Reddit, which is easy to outrank by writing a good piece of content that's well optimized for SEO and meets user search intent. LowFruits also reveals ranking websites with a low Domain Authority score which is a powerful sign that you can also win those top-ranking positions without needing many backlinks.
If you want to invest in a single keyword research tool that doesn't come with any extra SEO software like Mangools provides, then LowFruits is your best—and cheapest—option. LowFruits offers a pay-as-you-go pricing model, so you only pay for the keyword data you need without being locked into a monthly or yearly contract. Even though I pay for a monthly Mangools subscription, I still use LowFruits to find super-easy keywords with good search volume and high CPC values to help fill out my monthly content publishing schedule.
Top Benefits of LowFruits:
The Weak Spots feature instantly shows you how many weak websites are ranking in the top 10 positions on Google. Plus, it uses color codes for the types of websites in the SERPs: Green for a Domain Authority < 20 and Blue for a Forum or UGC content site.
You can perform your initial keyword research with a seed keyword to get a list of all of the related keywords with their search volume metrics without using any credits. Then you can select which keywords you want to analyze for Weak Spots and CPC data so you don't waste any of your credits.
You can filter keyword reports with features such as Weak Spots in the top 10 or top 3 positions, Sites with DA < 10, UGC sites in the top 3 positions, Search Intent, Search Volume, CPC Value, and more.
Includes the average word count for the top-ranking URLs so you can quickly assess how much content you need to write for a particular keyword.
You can try LowFruits for FREE and GET 10 FREE keyword credits using my affiliate link here: seochatter.com/lowfruits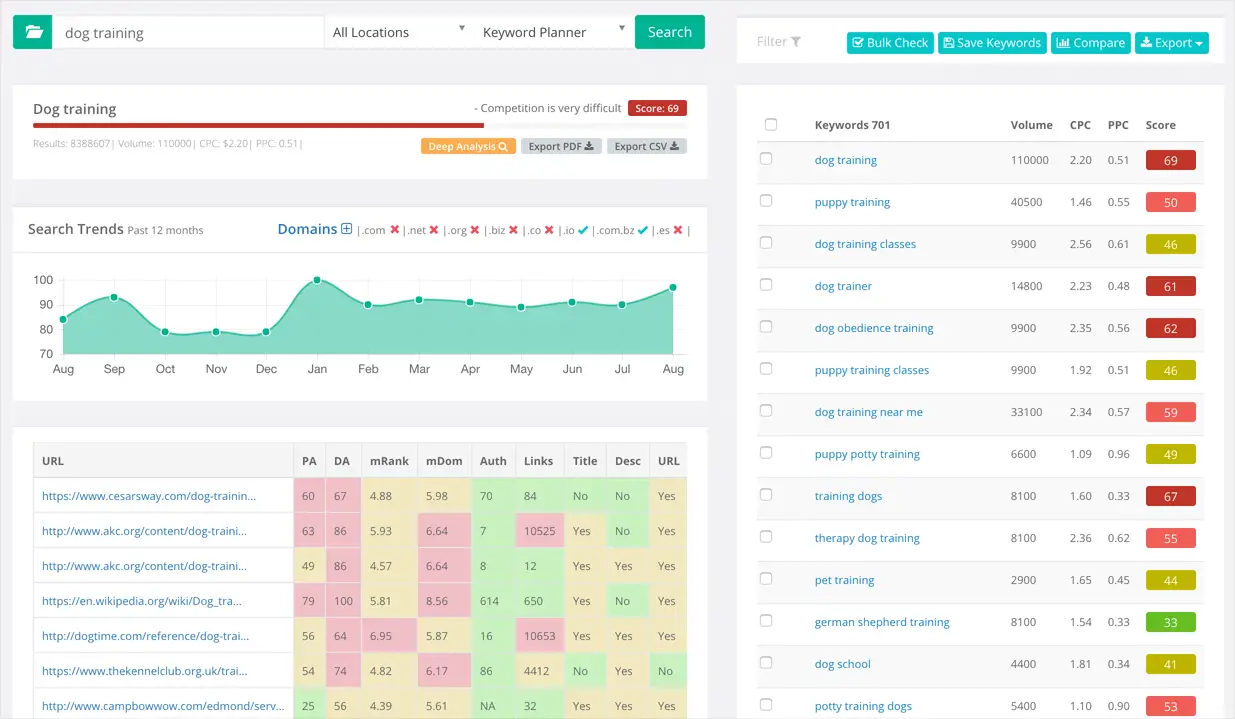 Keysearch
Keysearch is another great keyword research tool that has a few additional SEO tools built into it like KWFinder but has its own unique spin on things.
With Keysearch, you can get keyword suggestions, analyze keyword difficulty, do competition analysis, track your website's rankings, and more. What makes it truly stand out from other tools on the market is the Content Assistant tool that suggests topics and related keywords you can include in your articles to help them rank higher on Google. That feature alone is why so many people choose to use this product.
Top Benefits of Keysearch:
Keyword difficulty (KD) score for each search term has color codes for each difficulty level. Colors range from various shades of blue to red to indicate the SERP competition which ranges from very easy to very hard.
Offers 9 ways to research keywords: Related Keywords, Keysearch's Own Database, Google Suggest, Bing Suggest, Youtube Suggest, Amazon, Etsy, Ebay, and Pinterest.
Each keyword displays a SERP overview with the top 10 ranking URLs along with key SEO metrics like Domain Authority, Page Authority, Number of Linking Domains, Number of Backlinks, and Number of Dofollow Links.
Includes a Competitor Gap tool to compare different competitors and find common keywords that their websites are ranking for but your site is not.
Includes a Rank Tracker tool to track up to 150 daily keyword rankings.
Try Keysearch for FREE and get a 20% discount on the price by using coupon code KSDISC through my affiliate link here: seochatter.com/keysearch
Keep Reading the Free Online Version
Get the Paperback Book Version