Google's ranking algorithm systems do not penalize AI-generated content if it meets the Search Quality Raters Guidelines, according to a study by Search Engine Land.
With the latest updates to Google's algorithm systems in September 2023 (the Helpful Content Update) and October 2023 (the Spam Update and Core Update), many website publishers and SEO specialists have become concerned that AI-generated content is now a target in Google Search.
There have been many reports of websites with mass-produced AI content dropping out of Google's Search index by publishers and SEO specialists on X, in Facebook Groups, and on Reddit.
Some of these people believe that all AI-generated content will eventually suffer a ranking drop (or deindexing) in the search results because it is just regurgitated information that is already available on the Internet. As a result, Google's algorithm systems will detect the web page has no unique value and demote the rankings or deindex it entirely from the search engine results pages (SERPs).
Google already has systems in place to detect AI content if it violates the company's spam guidelines and uses various techniques to identify and flag machine-generated content, including natural language processing (NLP) algorithms that analyze the text for patterns and syntax common in computer-generated writing. However, if the content is helpful and accurate for users, then a web page may pass the quality test without receiving a spam penalty, and in some cases, outrank human-written content in the SERPs.
A recent article by Search Engine Land showed that Bankrate, an organization that independently researches financial companies and rates in the banking industry, is ranking well in Google Search for highly competitive keywords despite its blatant AI-generated content.
Search Engine Land noted in the article's case study that Bankrate's web page targeting the keyword phrase, "what is contribution margin", ranked in position 14 on Google's SERPs, higher than MailChimp (a site with a higher Domain Authority).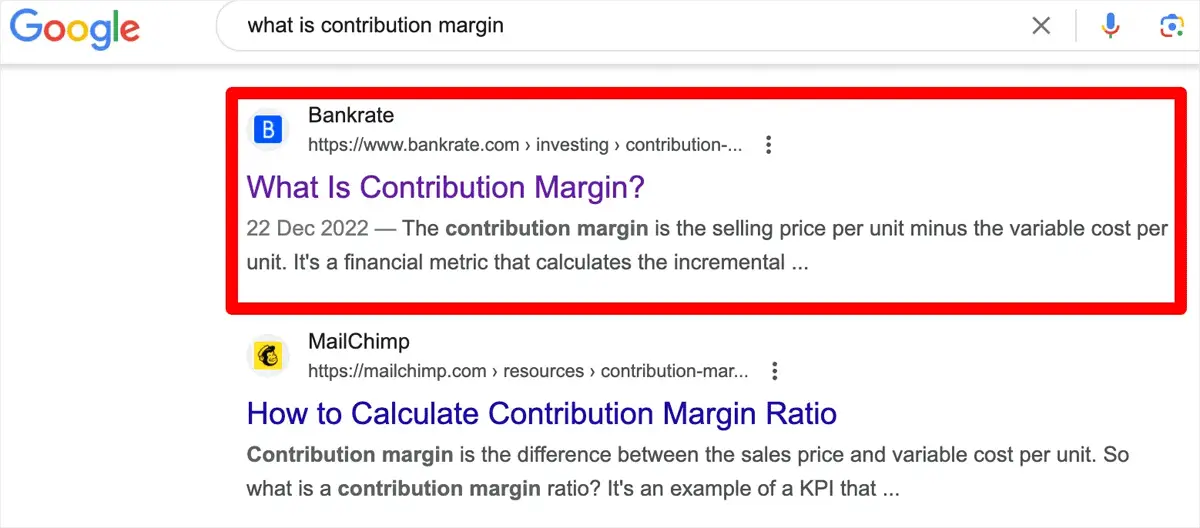 When you read the Bankrank page, you find a disclaimer at the bottom that states: "This article was generated using automation technology and thoroughly edited and fact-checked by an editor on our editorial staff."

But this is not an isolated case for Bankrate's website. Bankrate also ranks in the number 2 position on Google for the keyword phrase, "what is financial liquidity", with an AI-generated article. This web page contains the same disclaimer that the content was generated using automation technology.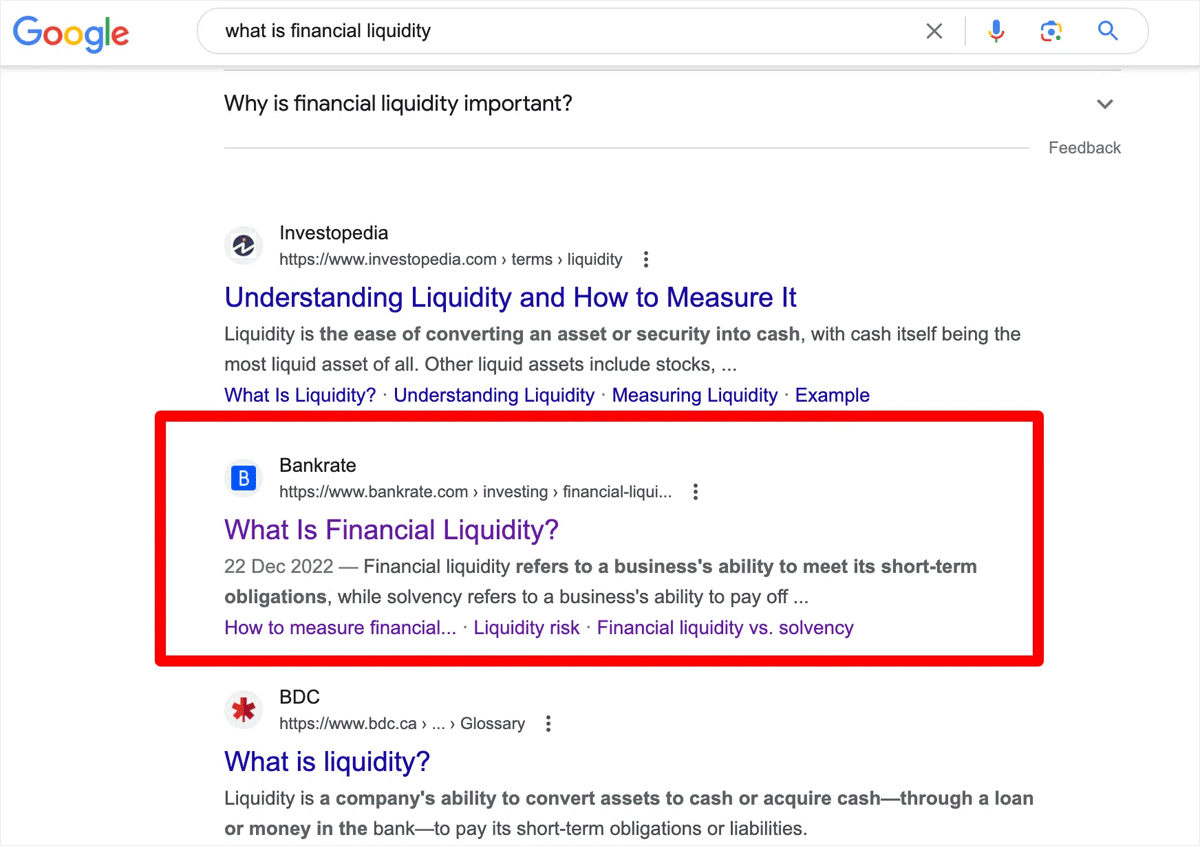 These results verify that contrary to popular belief, the recent Google algorithm updates are not a response to AI-written content. Instead, the updates are designed to reward exceptional content regardless of how it is written: with AI machines or by humans.
Google clearly states in its Helpful Content System documentation: "Google Search's helpful content system generates a signal used by our automated ranking systems to better ensure people see original, helpful content created for people in search results." It goes on to say: "The helpful content system aims to better reward content where visitors feel they've had a satisfying experience, while content that doesn't meet a visitor's expectations won't perform as well."
To get this level of user satisfaction for Google's ranking algorithm systems with AI-generated content, you'll need a combination of AI output and human editing. The key to success is to never rely 100% on AI-generated content output and expect to rank higher in the SERPs, or for very long.
Instead, you should have the writer edit the output of the AI writing tool to ensure factual accuracy and to add a human touch that helps the content pass Google's Search Quality Raters Guidelines.
Search Engine Land suggests the C.R.A.F.T editing framework to obtain this level of quality, which helps guide writers in embracing the art of AI optimization:
C.R.A.F.T stands for:
C: Cut the fluff.
R: Review, edit, optimize.
A: Add images, visuals, and media.
F: Fact-check.
T: Trust-build with personal story, tone, and links.
By following the C.R.A.F.T editing framework for AI-written content, you can better ensure that your articles are more human-like, higher-quality, and satisfying for both the user and Google's ranking algorithm systems.
It is clear from this AI SEO case study with Bankrate that Google does not penalize all machine-generated content. Important lessons can be learned by studying Bankrate's web pages that have the AI-generated disclaimer so you, too, can combine AI output with a human touch that gets rewarded in the SERPs.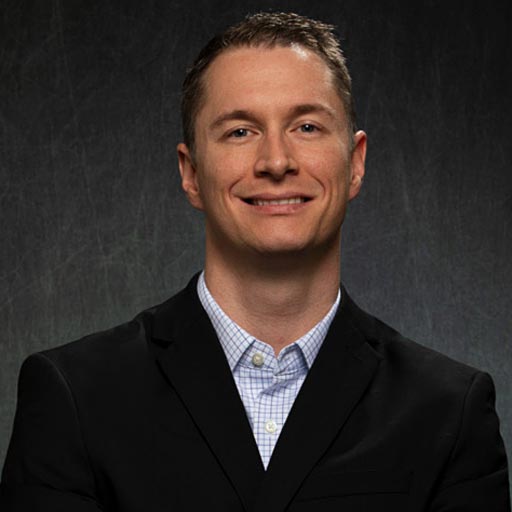 Stephen Hockman is an entrepreneur and founder of SEO Chatter. He specializes in search engine optimization and digital marketing and has been fascinated with SEO since 2005. His goal is to share the best tips and news about search engine marketing to help you get more website traffic.