This guide includes a list of free on-page SEO checkers.
Below, you'll find the top free on-page SEO tools you can use to optimize your pages for better search engine rankings and traffic. The free on-page SEO analysis tools recommended here will help you to grow your business online even if you don't yet have a budget for your SEO efforts.
Disclosure: This page includes an affiliate link for one of the on-site SEO checkers: Semrush. When you purchase a paid subscription, we may earn a commission.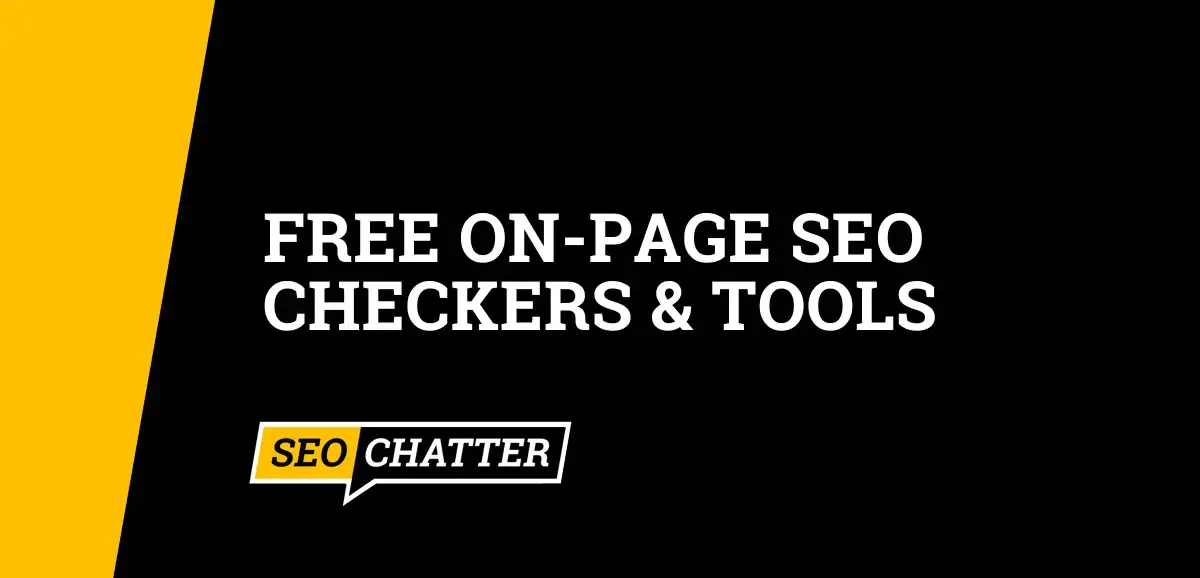 Free On-Page SEO Checkers & Tools
1. Semrush On-Page SEO Checker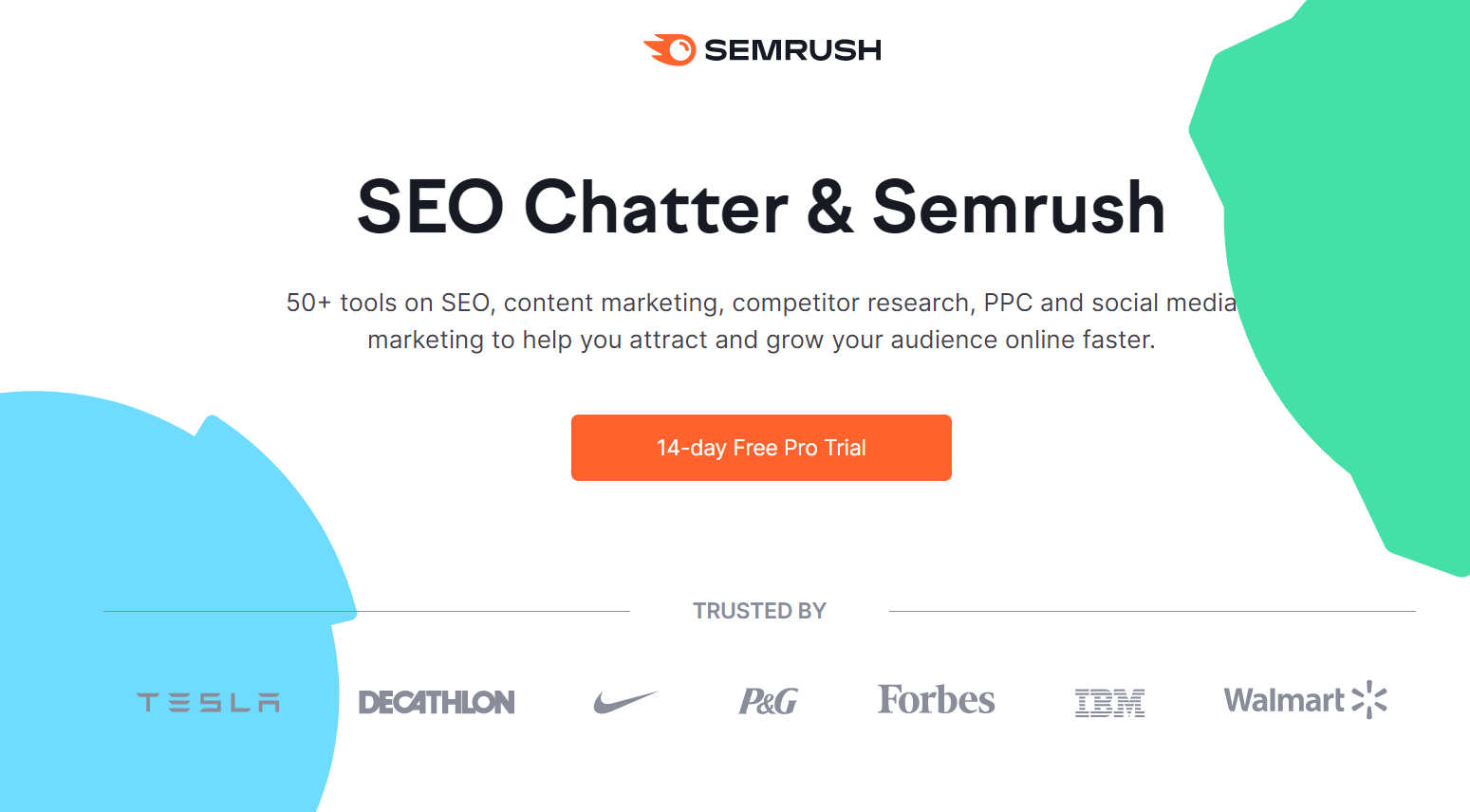 Semrush is an industry-leading search engine optimization platform that provides an extensive toolkit of top SEO tools used by almost half a million SEO professionals and business owners.
So it shouldn't come as much of a shock to find that Semrush also offers one of the best free on-page SEO checkers on the market.
After entering your domain, the free tool allows you to import up to ten posts or pages from your website. These pages are then analyzed to provide you with a wealth of data and useful optimization ideas.
Pages are benchmarked against the top 10 URLs that rank highest for your keyword to help you identify opportunities for improvement in key areas such as:
Content readability
Keyword placement
Header tags
Metadata
Video content
Sentiment
Semantic SEO
User experience
Elsewhere, the on-page checker expands into other areas like technical SEO and backlink building to give you even more recommendations for improvement.
Packing in more data, insights, and practical tips than any other platform we've come across, Semrush is a great starting point for any business looking to expand its online presence on a budget.
Note: You can get an extended Semrush free trial using my partner link, and continue using it at no charge for the basic features (e.g., 1 on-page SEO report and 10 keyword searches per day). But to get the most out of it, you'll need to upgrade to a premium plan which starts at $119.95 per month.
2. RankMath SEO Analyzer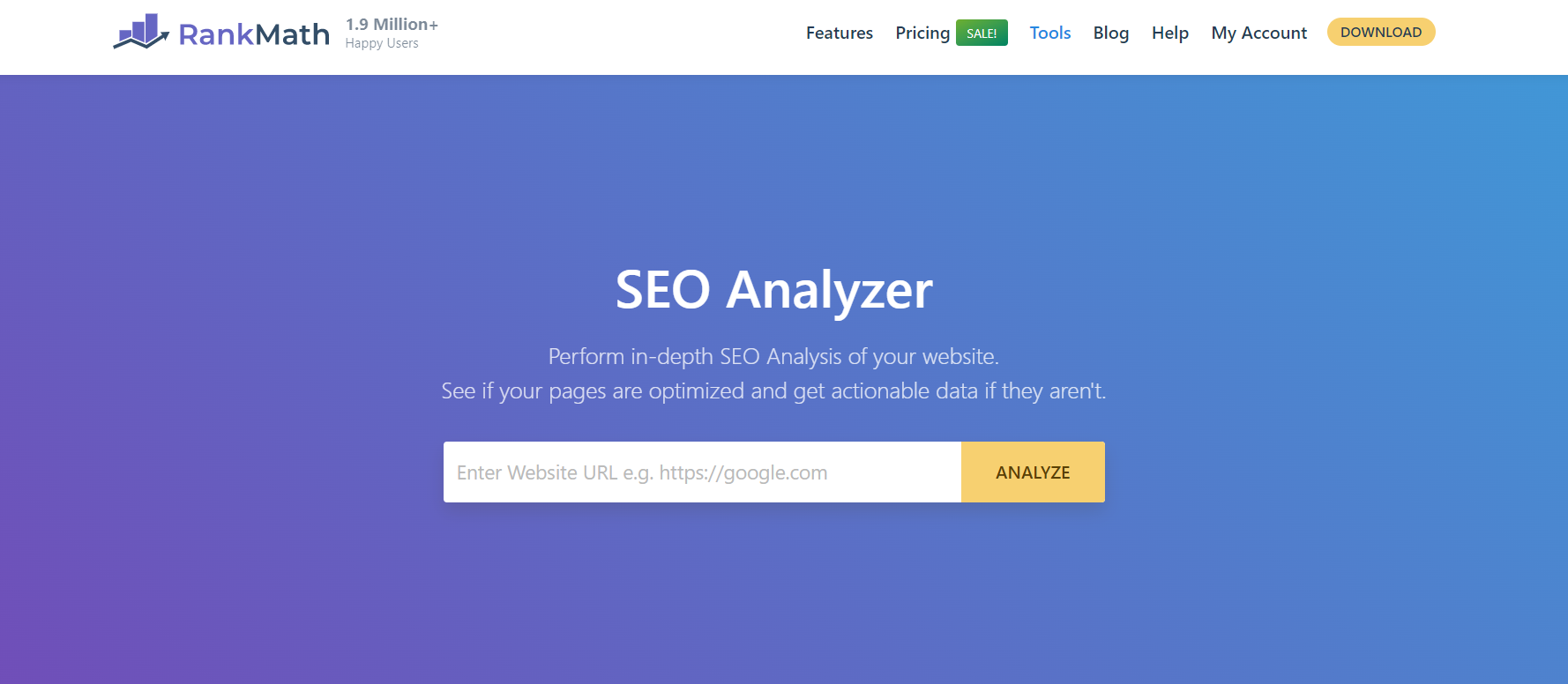 RankMath is one of our favorite SEO plugins for WordPress, analyzing your content as you create it and providing you with real-time suggestions on how to ensure that content achieves a top-ranking position in search results.
The best thing about RankMath's free on-page SEO analysis tool is that it isn't limited to WordPress users. No matter what platform you used to build your website, you can enter a URL from your website and, in return, get your hands on a detailed report with an overall SEO score and a breakdown of all the key elements that contribute to a fully optimized page. 
This breakdown highlights what you're doing well and where you could improve, with actionable recommendations and easy-to-follow instructions on how to implement those improvements.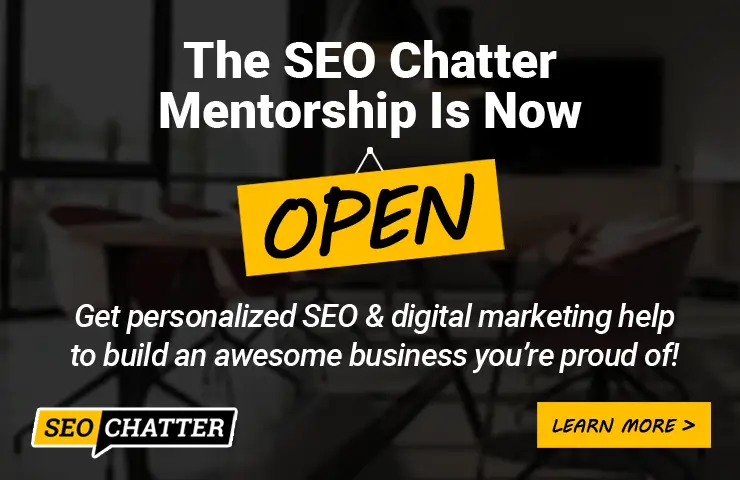 The only downside to RankMath's free SEO analyzer is that it only provides reports for one page at a time, so unless you upgrade to the paid version (starting at $59 per year), you'll need to manually enter each URL you want to check. Visit RankMath SEO Analyzer here.
3. Seobility SEO Checker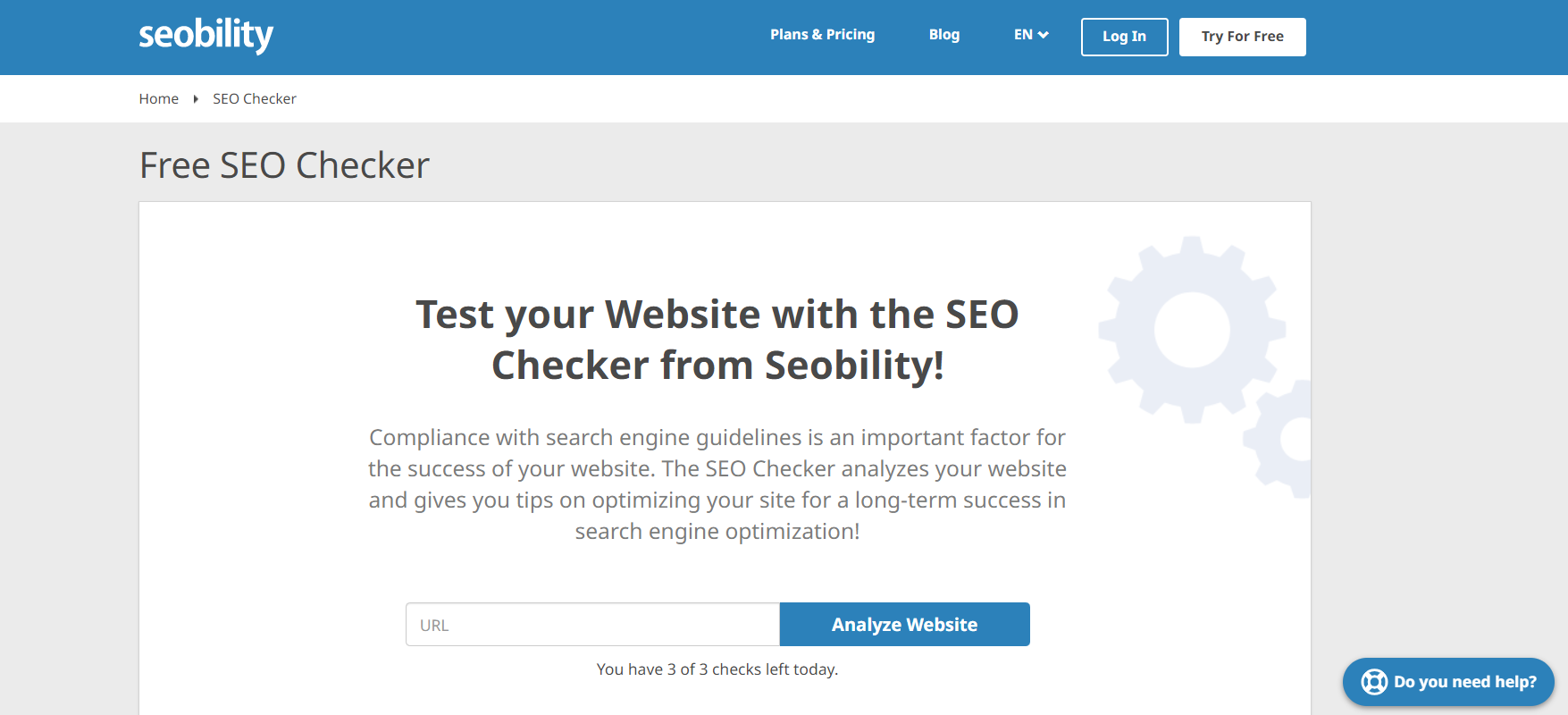 At first glance, the free SEO checker from Seobility may look pretty basic. But if you look a little closer, you'll see that its minimalist design is all part of the appeal, making it easy to digest a ton of information about your site's on-page SEO.
You can use Seobility to analyze 3 pages per day without registering for an account. However, if you sign-up for a 100% free account, you'll be able to check up to 1,000 pages from a single website project; making it totally worth it.
Whichever approach you choose, your page will be individually scored for key on-page and off-page SEO factors, including:
Meta information
Page quality
Page structure
Link structure
Server details
External factors (backlinks and social media popularity)
One thing we really like about Seobility is that if you receive a low score for any factor, you can simply click on that score to see where you're going wrong and what you need to do to fix it.
If you're looking for an on-page SEO analysis tool that isn't just free, but also beginner-friendly, give this Seobility a try. Visit Seobility SEO Checker here.
4. SEOptimer SEO Audit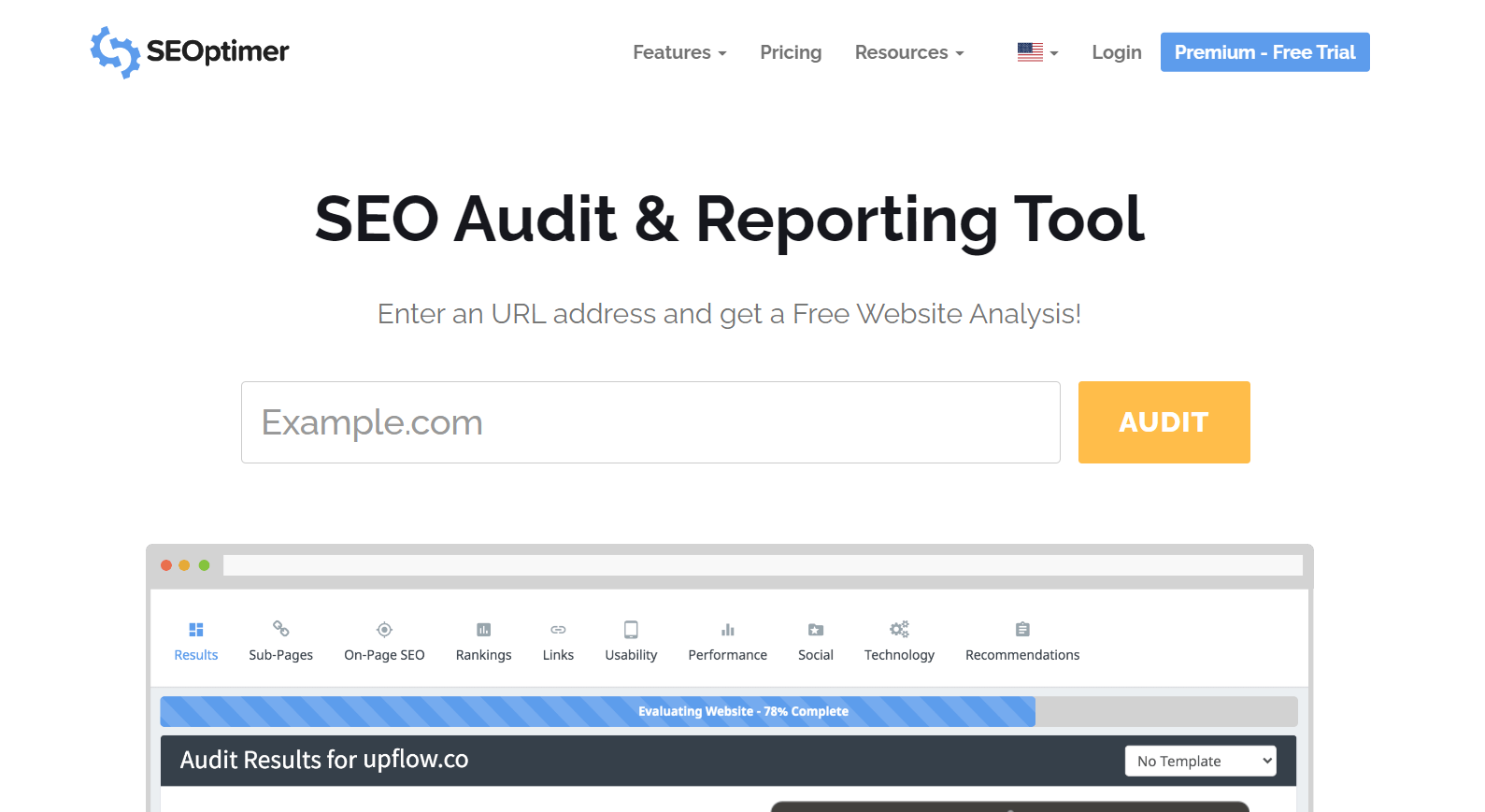 Like many free on-page optimization tools, SEOptimer's SEO Audit is designed to entice you to upgrade to its paid-for service. It does a pretty convincing job, too, providing an in-depth analysis of your URL that covers every possible factor affecting your SEO performance in minute detail. 
The SEO Audit grades your site across five key areas, including: 
On-page SEO
Links
Usability
Performance
Social media
An easy-to-use set of tabs then allows you to access a wealth of incredibly valuable insights about each area. For on-page, you can access simple but effective recommendations to improve your optimization, plus get a breakdown of your title tags, meta tags, header tag usage, hreflang tags, keyword density, and more.
With all that going for it, SEOptimizer's SEO Audit serves as a tremendous tool in its own right, even if you never pay the $19 monthly fee to upgrade. Visit SEOptimer here.
5. Website SEO Checker Chrome Extension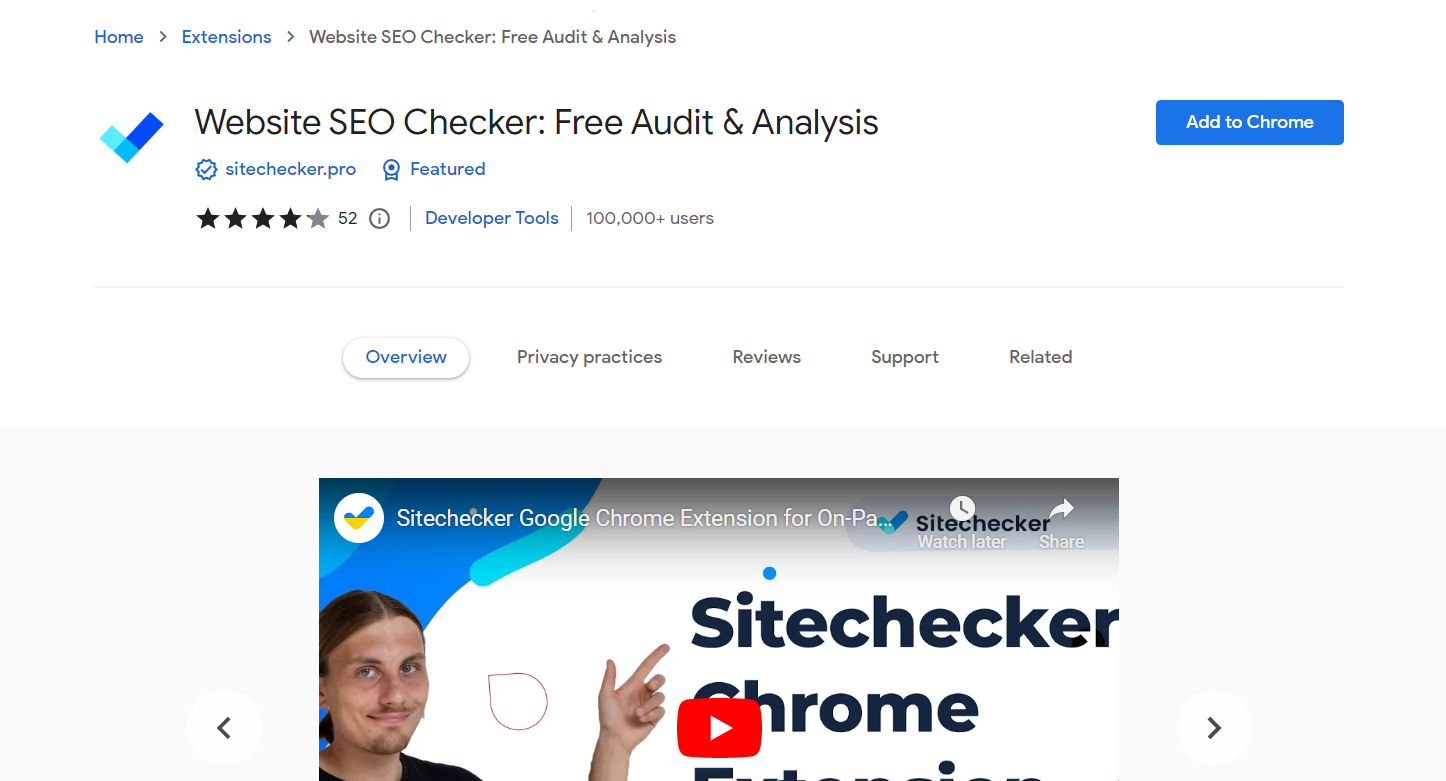 So far, we've seen several top on-page analysis tools, but all of them require you to open them up in a browser tab and paste a URL every time you want to analyze a page. 
If you're looking for a more convenient option that will allow you to do on-the-fly, on-page SEO audits as you browse through your site, then you should give Website SEO Checker a try.
This free Google Chrome extension comes from the Ukrainian-based SEO platform Sitechecker Pro. It allows you to view all of the most relevant and crucial information about your on-page SEO efforts within the same tab as the page you're checking. 
This can be a tremendous help when viewing your on-page analysis reports in context and determining which aspects of your content you want to target to make improvements. Visit Website SEO Checker Chrome Extension here.
Note: We also have a list of the best free SEO Chrome extensions, if you want to fully deck out your Chrome browser with search engine optimization plugins.
Learn More About On-Page SEO
The links below explain more about on-page SEO and how to use it correctly for search engine optimization. Use these resources to improve your knowledge of the subject.
Free On-Page SEO Checkers & Tools Summary
We hope you enjoyed this guide on the best free on-page SEO checkers.
As you discovered, there are many top free on-page SEO tools to choose between that make it easy to evaluate your on-page optimization efforts and identify areas for improvement, with Semrush, RankMath, Seobility, SEOptimer, and Website SEO Checker among the best of the best. Feel free to try all of these popular free on-page SEO analysis tools to find out which one is right for you.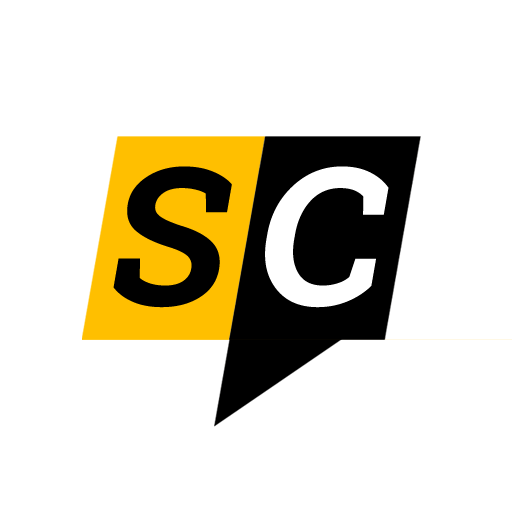 The Editorial Staff at SEO Chatter is a team of search engine optimization and digital marketing experts led by Stephen Hockman with more than 15 years of experience in search engine marketing. We publish guides on the fundamentals of SEO for beginner marketers.