This guide lists the best on-page SEO checkers to help you optimize your content for higher rankings in the search engines.
Below, you'll find the best on-page SEO analysis tools you can use to check how your pages perform in relation to critical on-page optimization factors and receive practical suggestions on how to improve them.
The recommendations on this page contain a variety of options to help you find the best on-page SEO tester to suit your budget, experience, and SEO goals.
Disclosure: This page includes an affiliate link for one of the on-page SEO tools: Semrush. When you purchase a paid subscription, we may earn a commission.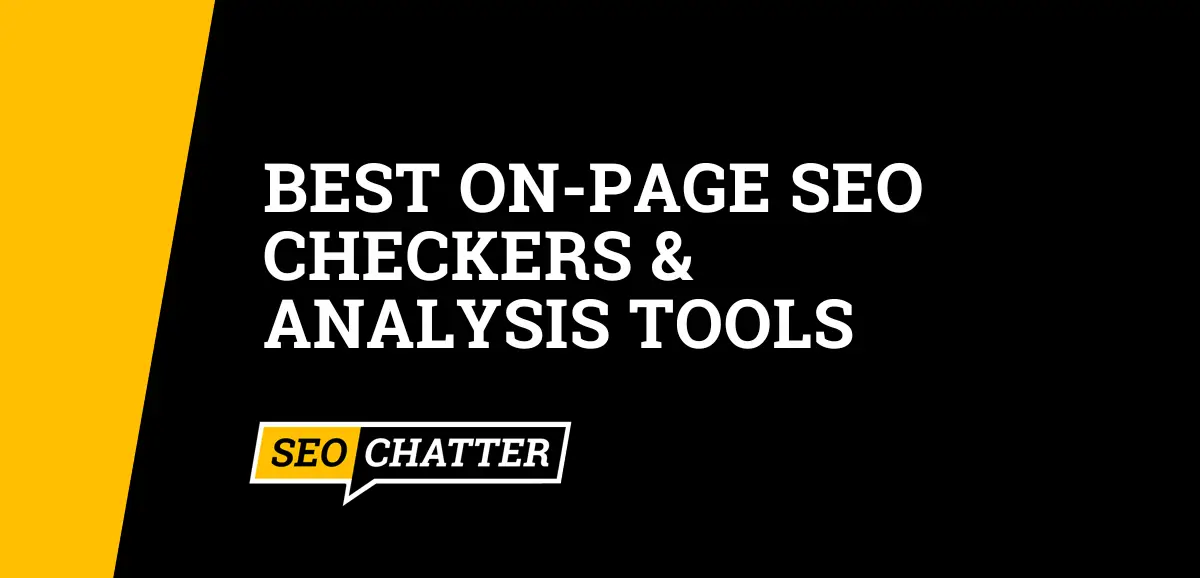 Best On-Page SEO Checkers & Analysis Tools
1. All-in-One SEO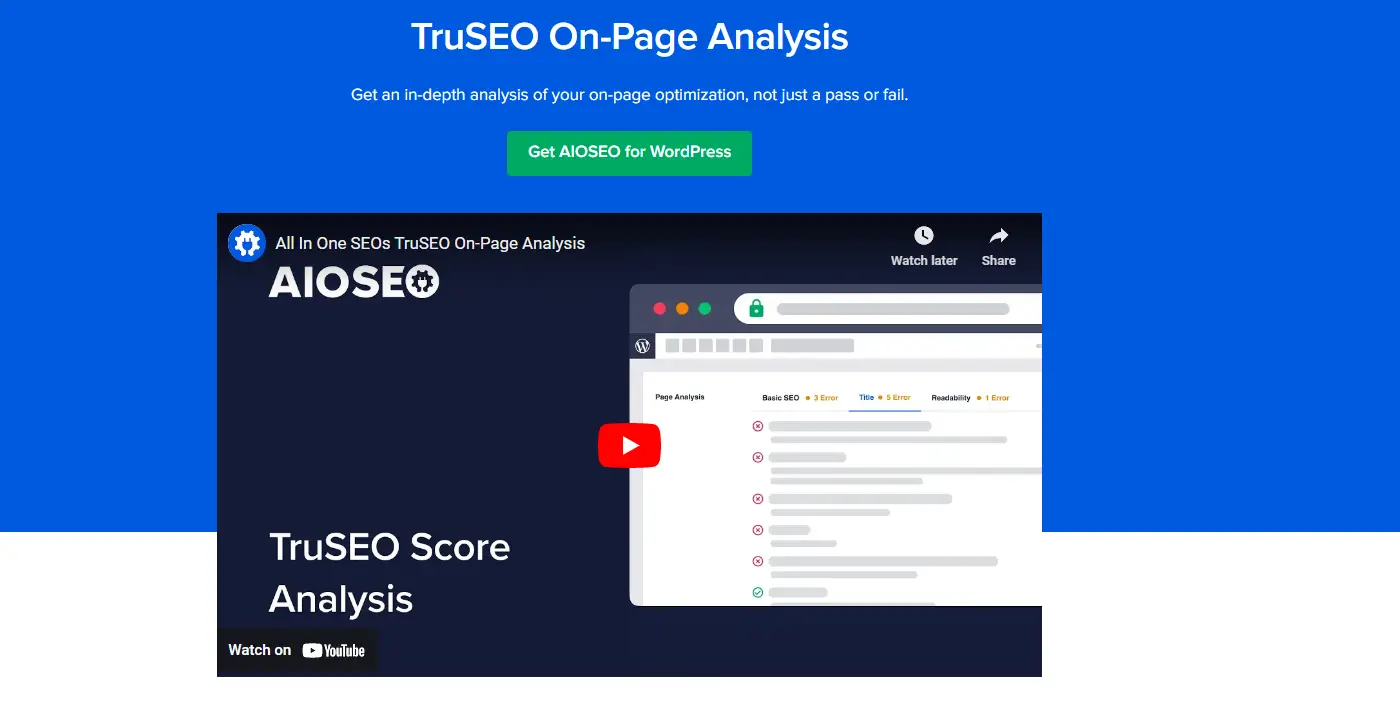 All in One SEO (AIOSEO) earns its reputation as one of the best on-page SEO testers on the market thanks to its effortless usability and in-depth on-page analysis features.
The TruSEO Score feature provides you with a comprehensive overview of your optimization performance, along with a detailed checklist outlining the steps you need to take to ensure your page stands the best possible chance of becoming a traffic magnet for your site.
Unlike other tools, AIOSEO doesn't just analyze the placement and keyword density of your primary keyword. It also allows you to add the secondary keywords you want to rank for and get actionable suggestions on optimizing your content for those related search terms.
Finally, we can't fail to mention how much we like the ability to customize page titles and meta descriptions using dynamic smart tags to automatically insert the current day, month, year, author details, and more.
All in One SEO's free version is one of the most popular plugins for WordPress, with over 3 million active installations. A premium version with more features is also available for $49.99 per month. Visit All in One SEO here.
2. Surfer SEO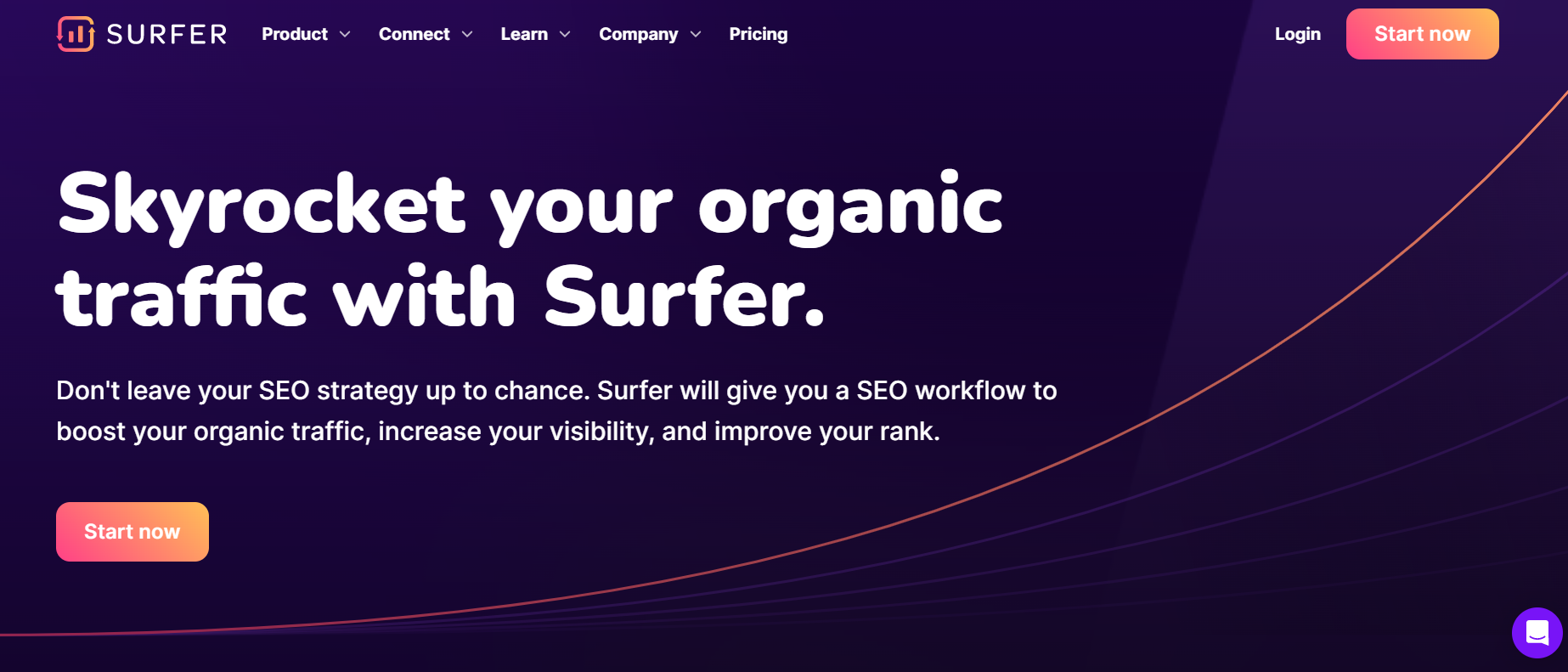 SurferSEO offers multiple features, but two, in particular, make it one of the best on-page SEO checkers in the industry.
The first is a handy content editor which provides guidelines to help you start optimizing your content from the moment you write your first word and offers valuable suggestions to improve your content as you write it.
The second is a fantastic SEO auditing tool that provides a wealth of useful insights into factors such as:
Content length
Keyword density
Sentiment
Meta tags and more
All of these insights are pulled from the top-ranking competitors in the SERPs you want to outrank, and come with actionable, step-by-step instructions you can use to ensure your page is optimized for each factor.
Surfer SEO offers a free 7-day trial which allows you to run an on-page optimization test on one article. To analyze and optimize more articles, you'll need one of the free premium plans, which run from $49 per month (for 120 articles per year) to $199 per month (for 840 articles per year). Visit Surfer SEO here.
3. Semrush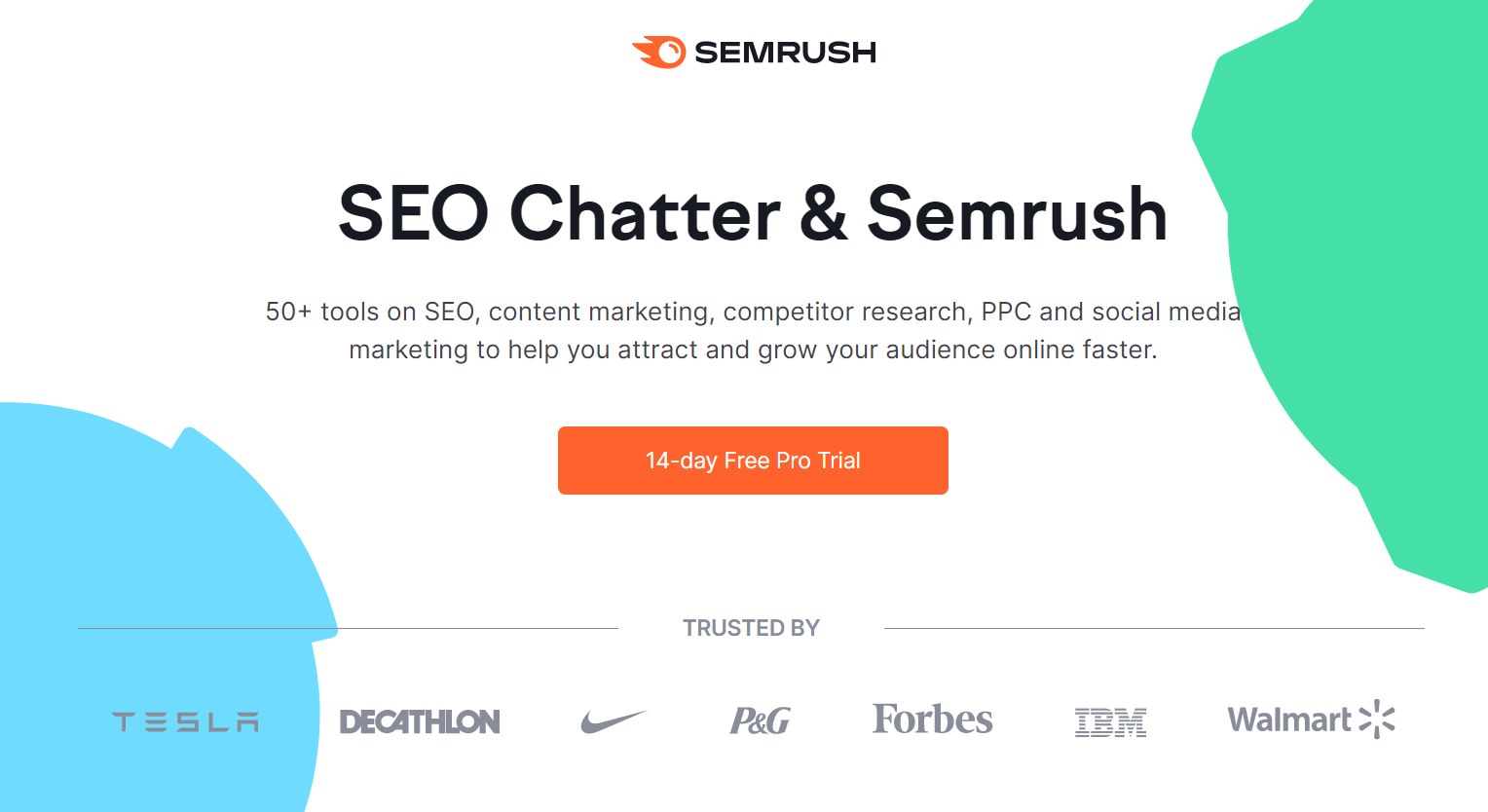 Semrush is primarily known as a leading keyword research and backlink analysis tool. But if you dig a little deeper into its extensive menu of features, you'll discover that the platform also offers one of the best on-page SEO analysis tools as well.
The Semrush On-Page SEO Checker tool allows you to automatically import pages from your website by entering the main URL, after it which it provides a ton of beneficial insights and suggestions, including:
Your highest-ranking pages and how to optimize them to increase traffic.
A list of semantically-related words to enrich page content to get higher SERP rankings.
Ways to get your content displayed in various SERP features.
Errors and issues affecting your on-page SEO performance and how to fix them.
Content ideas are based on the top-ranking pages for your keyword.
User experience metrics and methods for improvement.
The best part is that Semrush's on-page SEO testing tool is incorporated into the wider platform and plays well with its other features, making it an ideal choice for those who want to manage all aspects of search engine optimization in one place.
Note: You can get an extended Semrush free trial using my partner link, and continue using it at no charge for the basic features (e.g., 10 keyword searches per day). But to get the most out of it, you'll need to upgrade to a premium plan which starts at $119.95 per month.
4. PageOptimizer Pro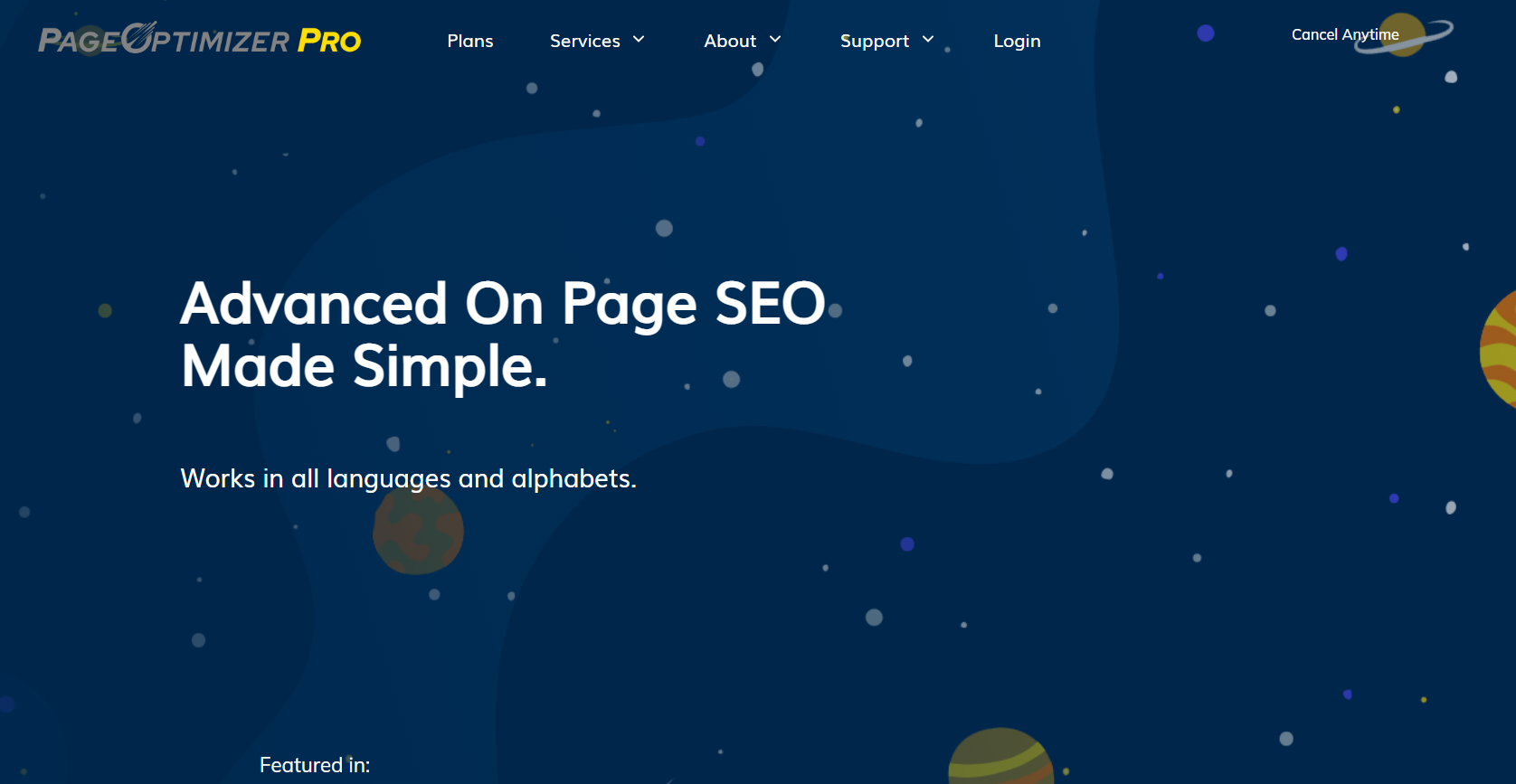 PageOptimizer Pro (POP) is one of the few SEO tools designed exclusively for on-page optimization. This means you only pay for what you really need to improve keyword rankings and traffic.
With many other on-page SEO checker tools, there's an extensive menu of additional SEO features that are not required for the task at hand. Mainly this is due to two reasons: to try to make the tool seem extra powerful and to help justify the high subscription price.
However, what sets POP apart from the competition as one of the best on-page SEO checkers you can use is that its analysis and recommendations are based on a scientific Page Optimization Method developed by Kyle Roof that has proven effective in hundreds of independent tests.
Another highlight is the POP Content Brief which provides you with a detailed overview of what you need to do to achieve maximum on-page optimization, including helpful information such as the ideal word count, recommended sub-headings, page structure, and more.
There's really no other on-page SEO tool like POP on the market. So we highly encourage you to give it a try. POP offers a 7-day free trial and plans start from $27 per month for 12 on-page SEO reports. Visit PageOptimizer Pro here.
5. Yoast SEO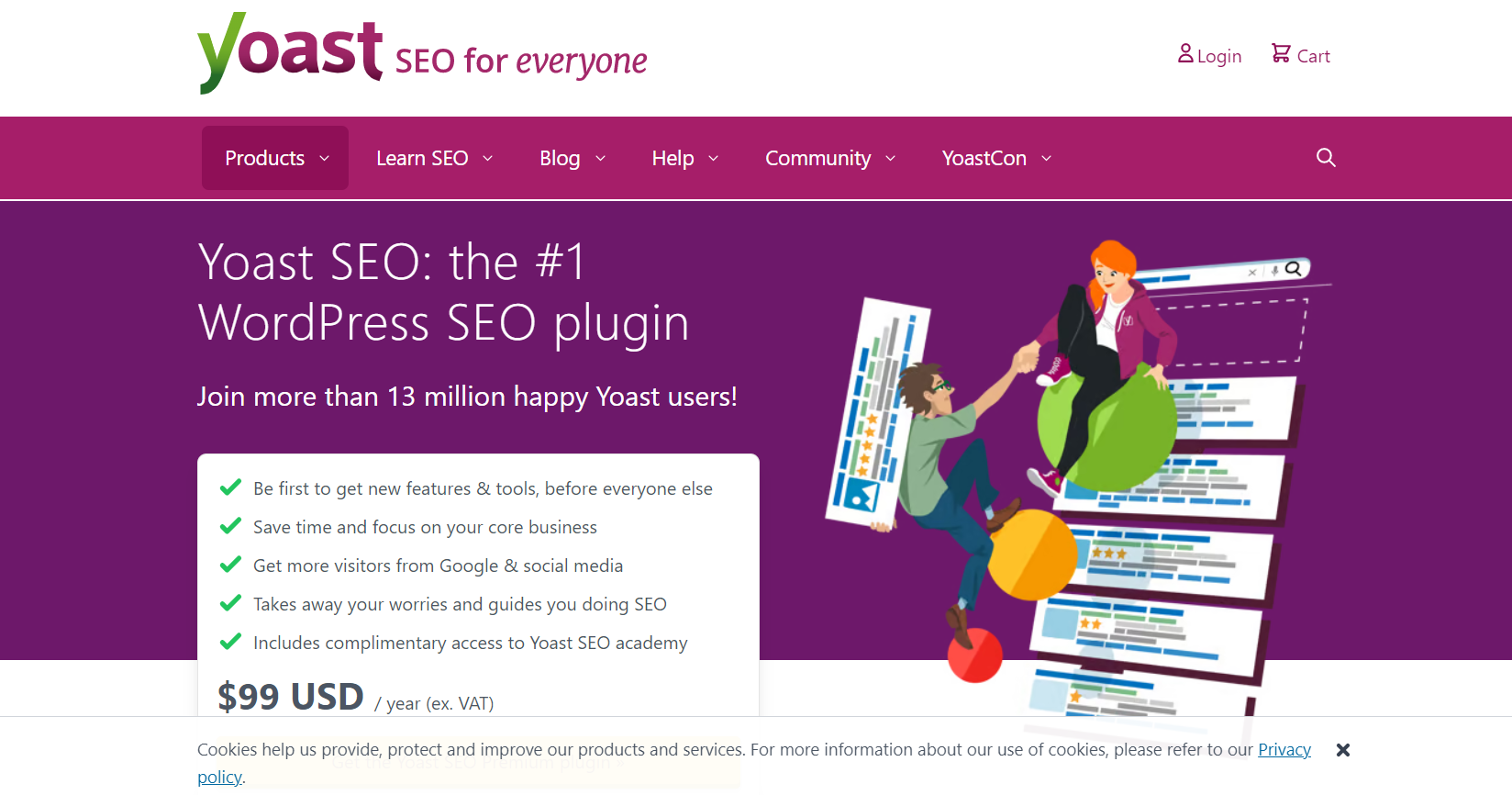 There once was a time when Yoast's reputation as the undisputed king of on-page SEO checkers for WordPress users went largely unchallenged.
These days, the likes of All-in-One SEO (reviewed above) are beginning to pose a serious threat to Yoast's crown, but with over 11 million active installs, this free SEO plugin remains enormously popular, and not without good reason.
Once installed on your website, Yoast makes it easy to check your optimization efforts as you write, providing real-time analysis of crucial on-page SEO factors such as:
Keywords Density 
Keyword Placement
Title tag optimization
Meta description optimization
Images and ALT tags
All these features save you from the time and hassle of having to check your content once it's complete, ultimately making the whole process much more efficient. Once an article is completely written, you can publish it knowing it's fully optimized for on-page SEO using Yoast's top criteria.
The free version of Yoast SEO is suitable for most on-page optimization needs. To access its other SEO features like link analysis and structured data markup, you'll need the premium plan, which costs $99 per year. Visit Yoast here.
Learn More About On-Page SEO
The links below explain more about on-page SEO and how to use it correctly for search engine optimization. Use these resources to improve your knowledge of the subject.
On-Page SEO Checkers & Analysis Tools Summary
I hope you enjoyed this guide on the best on-page SEO checkers.
As you discovered, there are several tools that are considered among the best on-page SEO analysis tools, with All in One SEO (AIOSEO), Surfer SEO, Semrush, PageOptimizer Pro (POP), and Yoast among the top options for great on-page SEO testers. Feel free to give each one a try to find the best software for your needs and budget.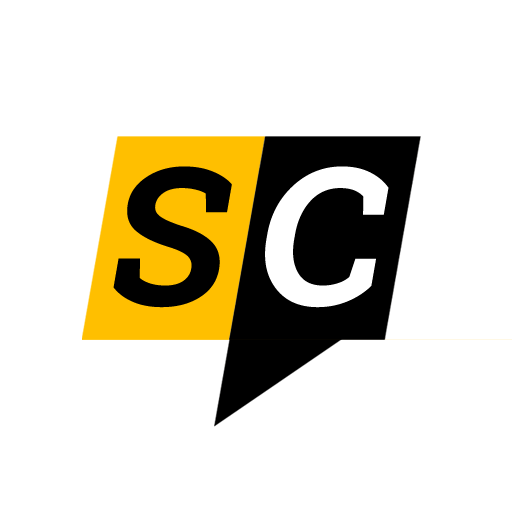 The Editorial Staff at SEO Chatter is a team of search engine optimization and digital marketing experts led by Stephen Hockman with more than 15 years of experience in search engine marketing. We publish guides on the fundamentals of SEO for beginner marketers.