If you're looking for expert insights to grow your business online, then you'll get a lot of value out of this list of the best digital marketing blogs.
As you already know, there are thousands of online marketing blogs you can read that cover everything from inbound marketing strategy to brand visibility to email marketing hacks and more. To make things easier for you, I've put together a list of the top digital marketing blogs for beginners and advanced marketers that offer quality insights you can trust.
By following any one of the blogs on this list, you'll get the guidance you need to create and implement good marketing campaigns for your business.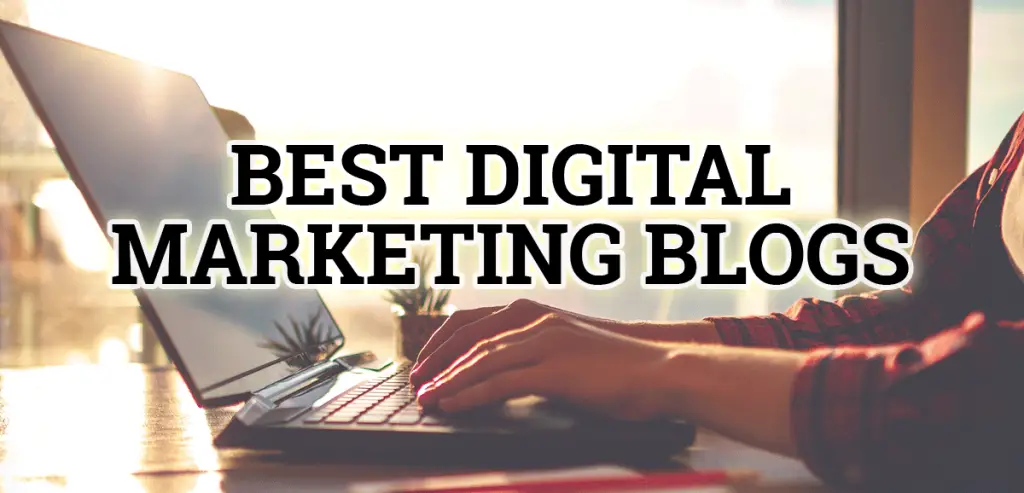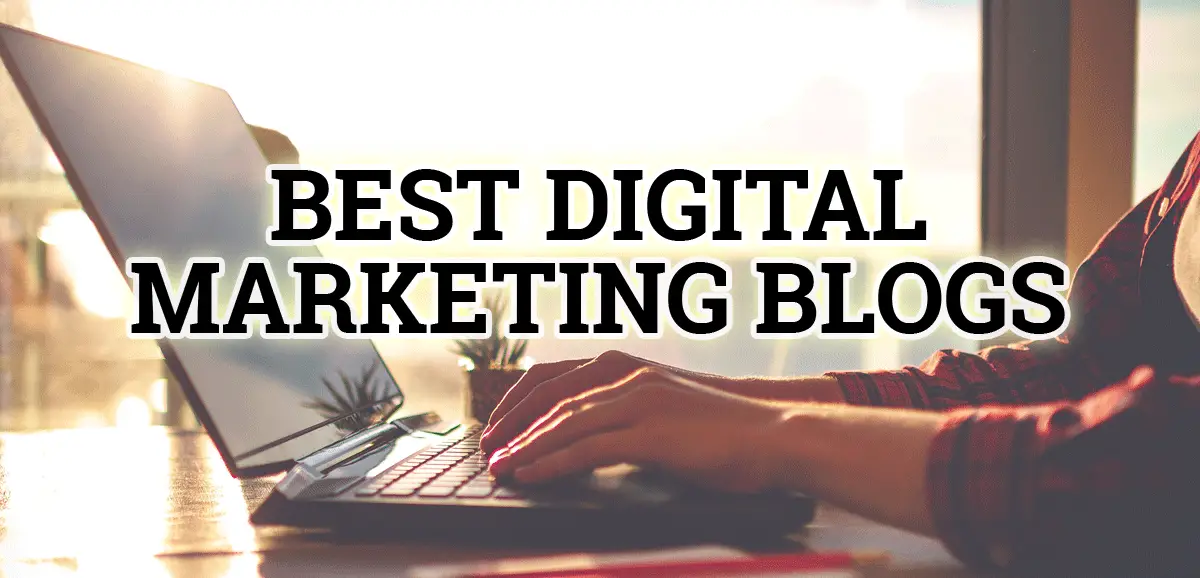 Best Digital Marketing Blogs
1. ActiveCampaign Blog
ActiveCampaign has one of the best digital marketing blogs for learning effective email marketing and marketing automation. If your goal is to improve your email open rates and conversions then you'll find a lot of great advice published here. What's good about this blog is that it doesn't just promote its own online marketing tools in each blog post. Instead, you gain key insights into general email marketing strategies and automation that can be applied to any tool on the market.
2. AutoGrow Blog
AutoGrow is one of the top digital marketing blogs on the Internet because it publishes content for both beginners and experienced digital marketers. You'll find everything from B2B content to B2C marketing tips to pricing strategies, search engine optimization (SEO) techniques, and more. AutoGrow truly has something for everyone to learn and grow their online marketing skills.
3. Buffer Blog
Next up on this list of digital marketing blogs is Buffer, which posts helpful content for business owners and marketers to build more successful brands through social media. A unique aspect of this blog is that it contains blog posts with real-life stories in marketing. You can read how real business owners improved their marketing strategy and try to apply those same ideas to your business. The blog also includes articles with market trends, lessons learned, hacks, and more.
4. BuzzSumo Blog
BuzzSumo is a platform that gives you powerful content insights to generate new ideas for your own online marketing blogs. The BuzzSumo blog is a great place to get new content marketing tips, digital PR advice, influencer marketing knowledge, engagement studies, SEO strategies, social media marketing guidance, competitive analysis, and marketing trend reports. There are more than 300 blog posts published on this site that you can read for improving your marketing skills.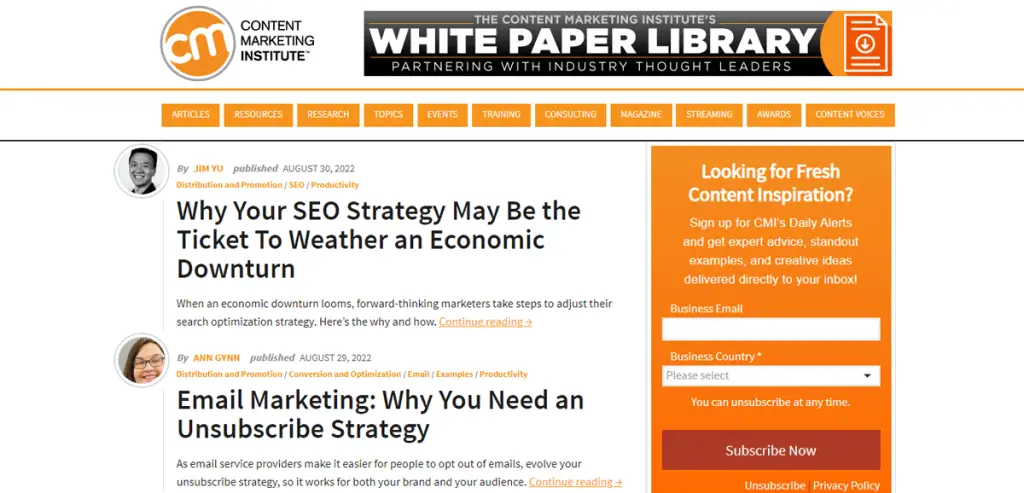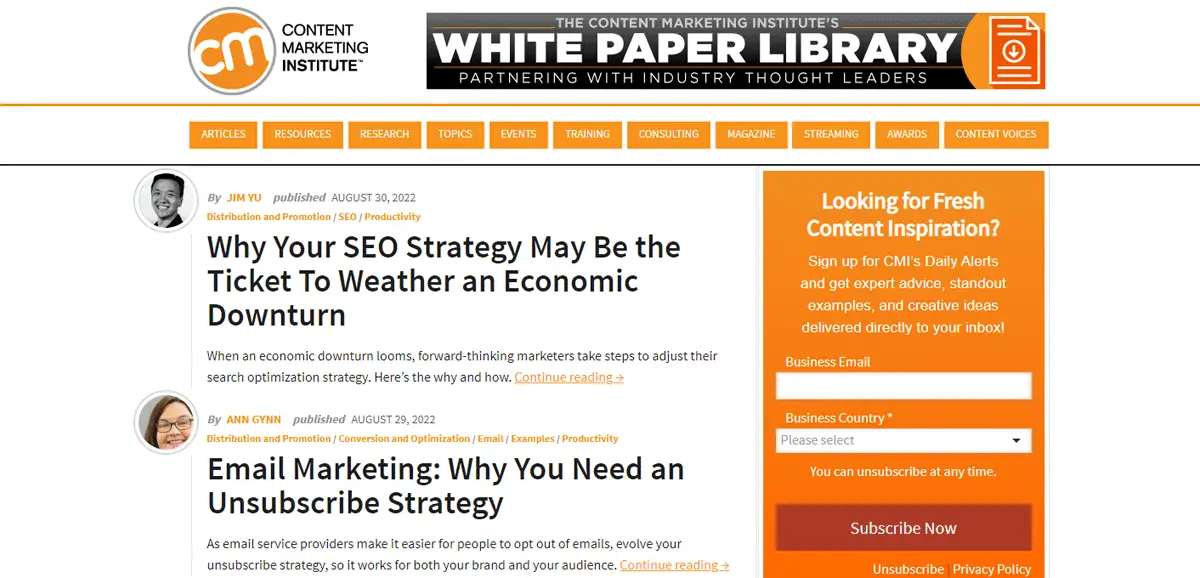 5. Content Marketing Institute Blog
If you're looking for good digital marketing blogs for beginners, then Content Marketing Institute (CMI) tops the list. CMI has a strong reputation for being one of the most trusted resources online for teaching marketers how to attract and retain customers through compelling, multichannel storytelling. On the blog, you'll find everything from high-level content strategy tips to conversion rate optimization techniques, blogging, distribution, and promotion methods. There are more than 200,000 subscribers to the CMI blog RSS feed, making it one of the most followed and read blogs on marketing.
6. Contently Blog
Contently has a blog called The Content Strategist. It includes several sections to help you find the exact type of help you need in digital marketing, including strategy, digital transformations, storytelling, return on investment (ROI), and trending topics. You can also sign up for the blog to get helpful content marketing tips and research delivered to your inbox so you don't have to visit it each day. Instead, you can just check the newletter blasts and see if any of the blog post links spark your interest to read more.
7. ConversionXL Blog
ConversionXL (CXL) is the leading blog for data-driven digital marketing. What makes CXL stand out from the other blogs recommended on this list is that CXL publishes blog posts with real growth case studies and examples based on business experiments. Essentially, the CXL team is applying marketing strategies to their client's sites and then revealing the important details for you to copy for your own business. Topic categories include acquisition, copywriting, conversion rate optimization, marketing psychology, social media, user experience, and more.
8. Convince & Convert Blog
Convince & Convert has been recognized as one of the best content marketing blogs by Content Marketing Institute (mentioned previously on this list). If you like quick reads that are under 5 minutes, then the Convince & Convert blog is perfect for you. Blog post topics range from content marketing to customer experience to influencer marketing and social media for both B2B and B2C businesses.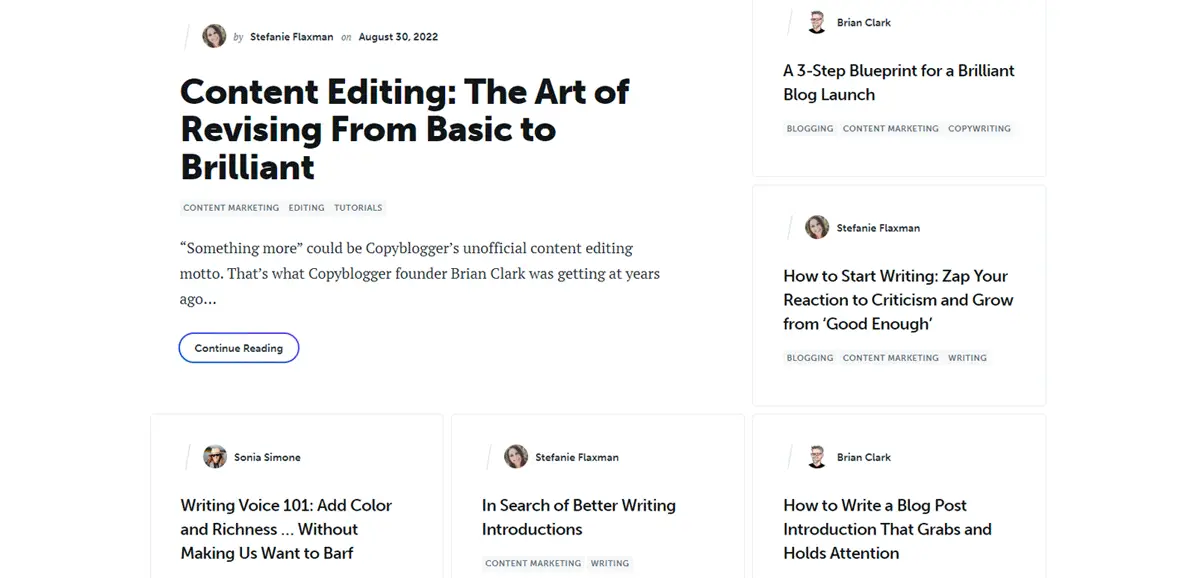 9.
Copyblogger

Blog

Copyblogger is one of the most popular online marketing blogs for copywriters. Venture Beat calls it the "Bible of content marketing." On the blog, you'll find a wealth of quality content that helps you create better audience-focused content that helps you reach your business goals. Example articles include sales letter tips, email subject lines, call-to-action advice, crafting better introductions, writing blog posts that grab and hold attention, and more. If you're a personal blogger or blog for a business, then you should definitely read and follow the Copyblogger blog. There's no other site on the Internet like it that teaches proven copywriting methods for success.
10. Crazy Egg Blog
Crazy Egg is a website optimization tool that allows you to track what your website visitors are doing on each web page so you can make better-informed marketing decisions. It also has a high-quality blog that takes insights gathered from its own testing tools and other market leaders and publishes it into articles that can help you improve your website design, copywriting, video creation, sales funnels, customer retention, and more. At last count, there were more than 2,500 indexed posts on the Crazy Egg blog; giving you plenty of high-quality marketing content to study and apply to your business.
11. Email Marketing Heroes Blog
Email Marketing Heroes is a weekly podcast hosted by Rob and Kennedy that shares email marketing tips and advice. However, you don't have to subscribe to the audio podcast (or even listen to it) to get the weekly marketing insights because the information is also transcribed into blog posts. If you want to get fast, actionable tips and hacks on email marketing, then this blog is one to bookmark, follow, and read on a regular basis. New podcasts and blog posts are published each week to feed your mind.
12. G2 Learn Hub Blog
G2 is the world's largest and most trusted tech marketplace where people can discover and review digital marketing software. This company also has a G2 Learn Hub that has more than 1 million subscribers. On this Learn Hub, you'll find blog posts ranging from inbound marketing to productivity tips to technology suggestions and sales fundamentals.
13. GetResponse Blog
GetResponse has a blog similar to other websites mentioned on this list, like ActiveCampaign (above) and MailChimp (below), that focus on email automation marketing. If you're looking for higher engagement tips and tricks with email, then this is a good blog to consider. There's no set schedule for new blog posts; however, you'll often find at least 5-10 new articles published each month for you to read.
14. HubSpot Blog
The HubSpot blog is one of the leading digital marketing resources that specializes in inbound marketing. What's good about this blog is that in addition to covering an array of topics, from marketing basics for beginners to advance strategies for seasoned online marketers, HubSpot also provides expert how-to guides, free templates, and tutorials you won't find anywhere else on the Internet. If you're looking for only one blog to read and follow of inbound marketing advice, then this is a top choice. In fact, I recommend that every serious digital marketer bookmark, follow, and read as much HubSpot content as they can from the blog if they want to run a successful online business.
15. MailChimp Blog
MailChimp is another marketing automation platform and email marketing service that has a good blog for all types of business owners and marketers. What makes this blog so popular is that it doesn't focus as heavily on email hacks like the other sites mentioned on this list (ActiveCampaign and GetResponse). Instead, MailChimp offers a wealth of how-to articles on starting, running, and marketing your business; plus, thought-provoking podcasts and videos to inspire your inner entrepreneur. MailChimp also publishes success stories and articles about trending topics that you won't find on other marketing blogs. So give it a quick read. You may be pleasantly surprised at all of the free value you'll get out of this site.
16. MarTech Blog
MarTech educates marketers about marketing strategy and technology through news, feature reporting, and research reports. Formerly known as Marketing Land, MarTech also goes beyond just blogging and hosts an annual conference for digital marketers to meet with other industry professionals to swap ideas and strategies in a real-life setting. If you enjoy marketing conferences, then MarTech's blog is a good resource to follow so you can stay up to date on the latest events the company is hosting.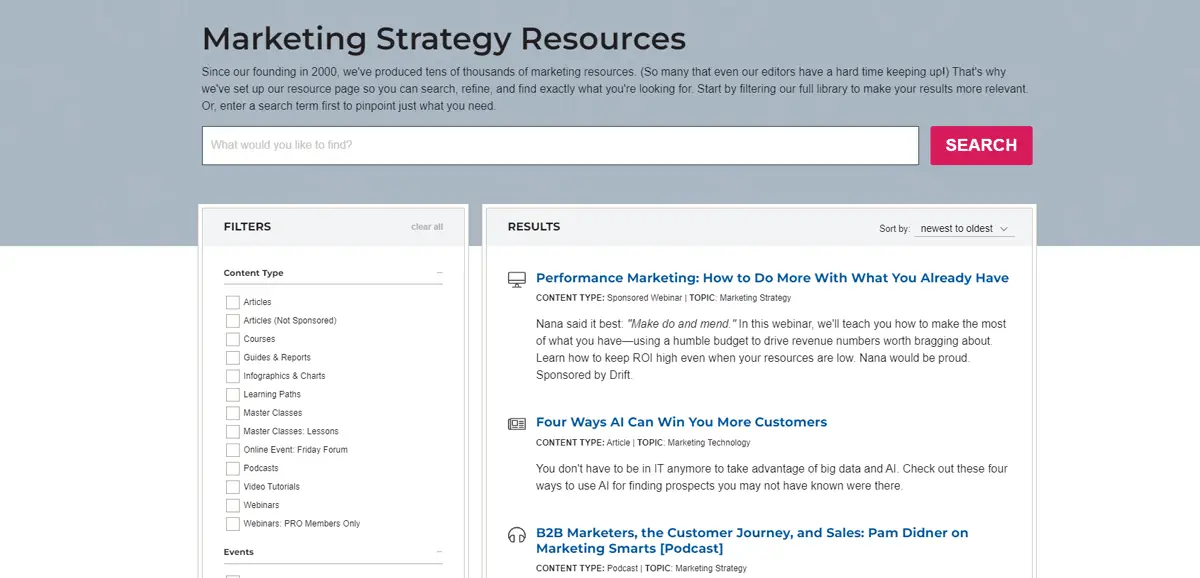 17.
MarketingProfs

Blog

MarketingProfs is another well-known and good digital marketing blog for beginners who specialize in B2B marketing. The blog articles are designed to inspire you to increase productivity, create marketing content that matters, and grow revenue for your business. More than 600,000 people subscribe to MarketingProfs and there's over 1,400 blog posts on the site, so you know it's a trusted source with a lot of high-quality and valuable content to read.
18. Marketo Blog
Marketo is an automation engagement platform owned by Adobe which has a fantastic blog for getting marketing forecasts, audience segmentation tips, workflow advice, digital management strategies, and more. However, Marketo is not the most update-to-date blog to follow compared to the other recommendations on this list. It does provide high-level insights and guidance for online marketing that you can use to grow your website and business, but you won't find new blog posts published on a weekly basis.
19. Moz Blog
Moz has one of the longest-standing blogs on the Internet that teaches search engine optimization (SEO). It was founded in 2004 and was originally called SEOmoz. Some of the world's first SEO experts shared their research and ideas on the Moz blog and inside its community platform. If you're looking for cutting-edge information on SEO and new trends to use in digital marketing to gain more organic search engine traffic for your business, the Moz SEO blog is a great place to start. One of the most popular blog series on this site is called "Whiteboard Fridays", where an industry expert walks you through a particular SEO topic while highlighting key concepts on a whiteboard.
20. Neil Patel Blog
Neil Patel has one of the highest-ranked online marketing blogs in search engines like Google, Yahoo, and Bing. With more than 4,000 blog posts, there's no topic he doesn't cover when it comes to digital marketing, SEO, content marketing, blogging, business growth, etc. Neil is the co-founder of Crazy Egg (also featured on this blog list), a New York Times bestselling author, and a self-made millionaire. He gets a lot of criticism in the SEO world for publishing basic-level beginner digital marketing content; however, it's often well-researched and includes a lot of outbound links to other relevant sources you can use to back up his claims and further improve your marketing knowledge. All-in-all, Neil Patel has built a massive blog with tons of resources that have helped millions of people grow their online businesses.
21. PSFK Blog
PSFK is a market research company that publishes consumer, brand, and retail innovation trends you can use to increase your ecommerce business's revenue. The blog contains top insights and ideas that the PSFK research team is tracking for retail and online shopping. If you're in this type of business space, then this blog is a great one to follow.
22. Problogger Blog
Problogger is the best digital marketing blog for bloggers. Founded in 2004 by Darren Rowse, it has grown to be the most trusted source for bloggers who want to create, grow, and monetize their blogs for success. No other blog on this list can compare to Problogger in terms of the quantity of published content either. It has more than 8,000 posts with blogging advice, marketing tips, in-depth tutorials, and details o the latest blogging trends. If you're a blogger of any kind, you definitely need to add Problogger to your daily reading list. You'll gain so much insight about every topic that's important for growing a successful blog online.
23. QuickSprout Blog
QuickSprout is an online digital marketing resource for aspiring and seasoned marketers who are looking to learn new tools and advance their knowledge on specific topics, such as inbound marketing and content strategy. This blog has a ton of free how-to resources and product reviews to help you find the top information you need for growing your business on the Internet. In addition to blogging tips, you'll also find content on project management, ecommerce, sales, finance, entrepreneurship, and more.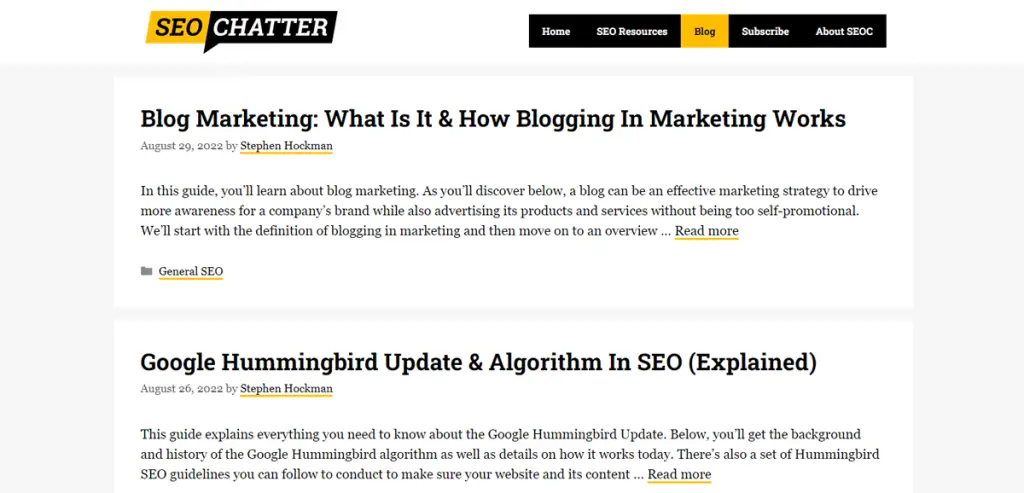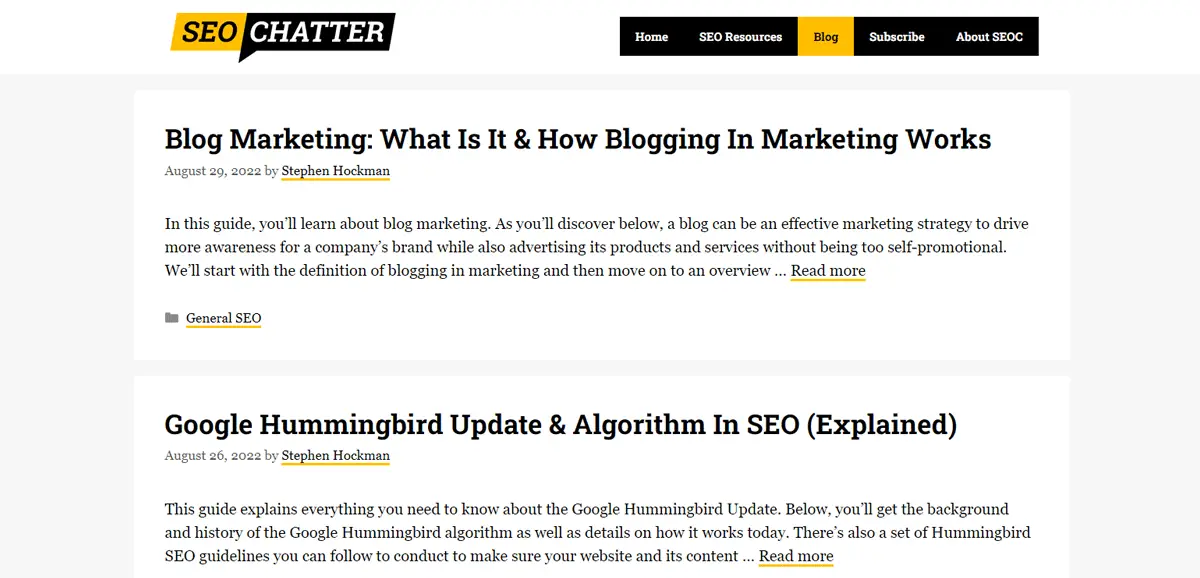 24. SEO Chatter Blog
SEO Chatter is the blog you're reading right now. And my mission with this website is to make it the top digital marketing blog for learning search engine optimization. If you're looking for the most actionable SEO advice you can use today to get fast results for your website, then the SEO Chatter blog can help. The ultimate goal is to answer the top questions beginners in marketing have about search engine optimization so they can learn how to maximize the rankings and traffic for their websites with ease. Around 3-5 new blog posts are published each week on topics such as keyword research, link building, general SEO strategies, and monetization methods.
25. Search Engine Journal
Search Engine Journal is a trusted name in the SEO industry for daily insights; however, it's more than just an SEO blog. With a large team of SEJ writers, you'll find plenty of articles on paid search, content marketing, digital strategies, ecommerce, lead generation, social media marketing, and more. This is a good website to visit for up-to-date details on Google Search updates and the marketing industry as a whole. I visit it quite often myself to help guide my online marketing strategies for the SEO Chatter brand.
26. Search Engine Land
Search Engine Land is similar to SEJ mentioned previously, but focuses on fewer marketing topics. SEL is a good blog to visit for daily SEO news, updates, insights, and analysis as well as how-to guides and tutorials on pay-per-click (PPC) advertising, and local marketing. If you're business is heavily focused on organic SEO or paid marketing, then Search Engine Land is a good blog to read. (Note: You may also be interested in browsing through my best SEO blogs list if you want to find the top SEO bloggers to follow.)
27. Smart Passive Income Blog
Smart Passive Income is a blog that was founded by Patt Flynn in 2008. Initially, SPI was a personal blog where Patt shared his experiences building websites from scratch. When I first got into this industry, I used to frequent the Smart Passive Income blog for marketing tips and advice I could use to grow my own website. Now, SPI has now grown into a full-blown community where you can learn all types of digital marketing strategies related to the topics of email marketing, content marketing, SEO, affiliate marketing, podcasting, social media marketing, and more. If you like the blog content, then you should also consider subscribing to the SPI podcast which features interviews and insights from experts across a variety of B2C and B2B industries.
28. Social Media Examiner
Social Media Examiner is the best online marketing blog for social media marketing. The blog is full of good articles about creating viral content, staying current with new social media trends, how-to tutorials, paid ad tips, white papers, and more. Michael Stelzner, the creator, has dveloed an amazing blog for social media marketers that has put it light years ahead of every other social media-focused blog on the Internet. If social media is important to your business, then SME is a top blog you should follow.
29. Unbounce Blog
Unbounce is a landing page builder that helps you improve the conversions and sales for your business. The blog is an exceptionally good resource for learning how to crush your marketing goals with expert advice on conversion rate optimization, copywriting, design, ecommerce, and campaign strategies. One category that sets this blog apart from the others reviewed on this list is called "A/B Testing". Inside, you'll find proven tips and stragies on how to conduct A/B testing for your website to maximize the conversion rates and sales.
30. Wordstream Blog
The Wordstream blog is another high-quality marketing blog that's updated several times per week. Articles cover a range of topics to help you master online marketing and advertising, such as content marketing, blogging, local marketing, ecommerce strategy, display ads, SEO, paid search, etc. If you want fresh content with a lot of helpful advice and templates, then the Wordstream blog is a good choice to read and follow each week. You can also dive into older content which includes more than 3,000 published blog posts.
Digital Marketing Blogs Summary
I hope you enjoyed this list of the best digital marketing blogs.
As someone who has personally been doing online marketing for more than a decade, these truly are the top digital marketing blogs for beginners and advanced marketers to follow. If you want to read some of the greatest content that can help you create a better marketing strategy for your website and business, then give any one of these blogs a try.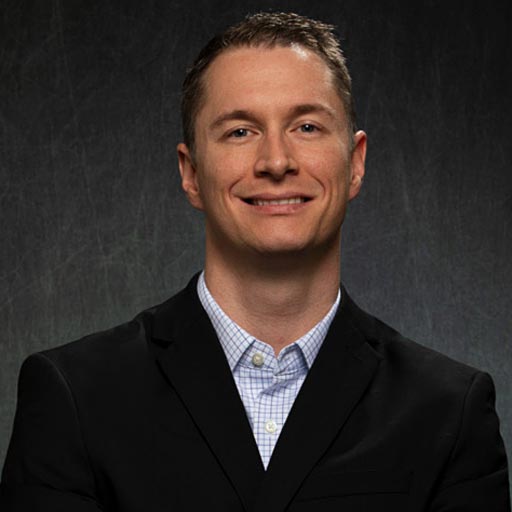 Stephen Hockman is an entrepreneur and founder of SEO Chatter. He specializes in search engine optimization and digital marketing and has been fascinated with SEO since 2005. His goal is to share the best tips and news about search engine marketing to help you get more website traffic.