This guide includes a list of the best conversion rate optimization books you can read.
Below, you'll find the top conversion rate optimization books (CRO) you can buy on Amazon or check out from your local library (if available). By reading any one of these CRO books you'll expand your knowledge on how to create better-optimized websites to generate high click-through rates, conversions, and sales for your business.
Note: I also have reviews for the best books on search engine optimization, the best email marketing books, and the best affiliate marketing books if you're looking to improve your expertise in those digital marketing areas.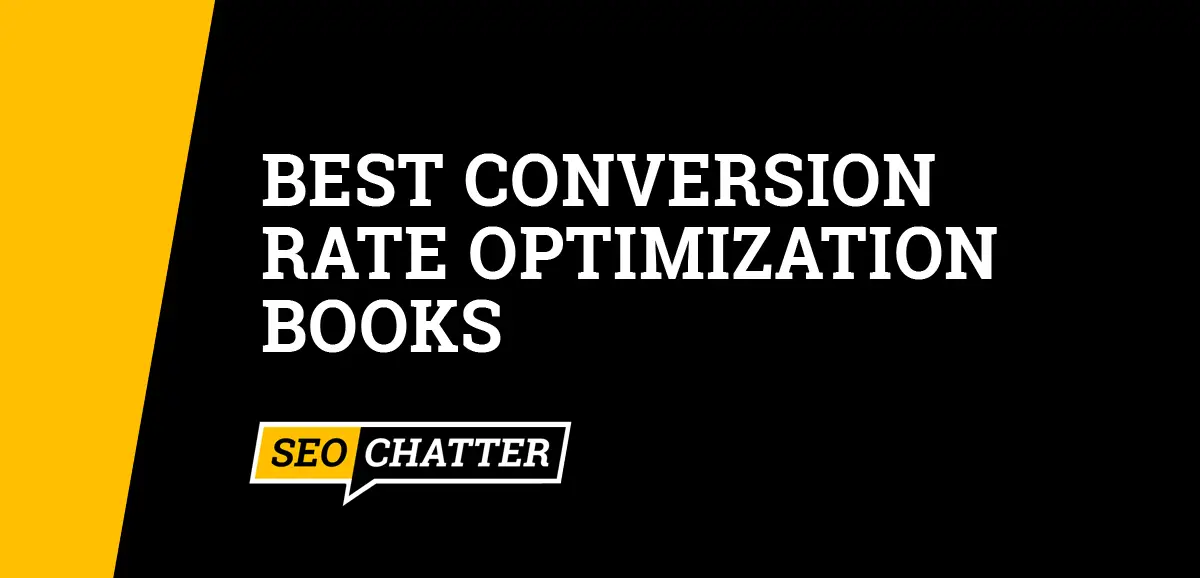 Best Conversion Rate Optimization Books List
By Karl Blanks and Ben Jesson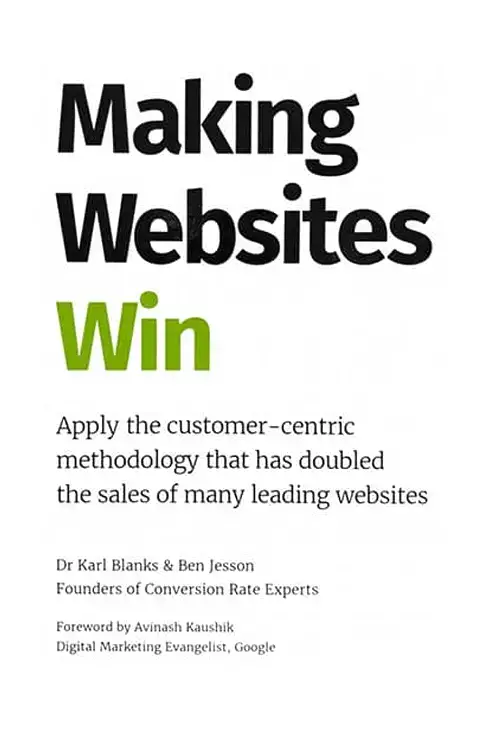 As pioneers in the field of CRO and the founders of Conversion Rate Expert (CRE), authors Ben Josson and Karl Blanksthis have written one of the best conversion rate optimization books on the market.
The thing I enjoyed most about this book is how the authors dispelled common myths about CRO and teach you what actually works to improve conversion results without any fluff.
With over 352 pages of pure value, I considered this to be the new Bible of conversion rate optimization. And it's available in Kindle, hardcover, and paperback formats.
In the first section, you'll learn how and how not to do effective web design. The authors explain what most websites are doing, which causes them to lose money through lower conversions. Next up, they explained in great detail all the technical skills and tools you need for proper CRO and how to use them to improve your website.
The third section is the main part of the book–and my top favorite–where you learn all the factors that go into making a website that actually converts visitors into buying customers (i.e., making websites win). Key topics you'll find include:
The top ingredients of a winning website.
Writing better copy.
Making user-friendly sites.
Satisfying visitors' needs.
Creating irresistible offers.
Making your site trustworthy and credible.
Keeping user attention.
Persuading users to take action.
Ways to increase customer lifetime value (CLV).
Lastly, Jesson and Blanks share tons of case studies showing exactly how they grew a company's profit at a record-breaking speed using all of the CRO lessons taught in the book.
Overall, Making Website Win is a great read if you want to master the science of building higher-converting landing pages and websites that can generate more money.
Check Amazon Reviews & Price
---
By Tim Ash and Maura Ginty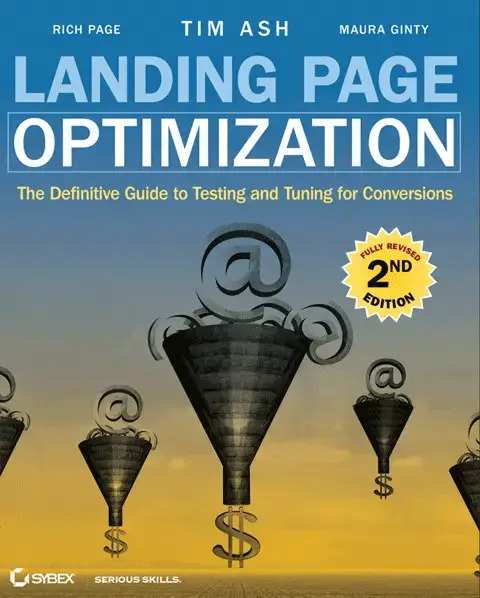 This is another one of the top books on conversion rate optimization I recommend to people who are interested in CRO.
If you want to become a landing page expert that builds websites that not only convert better but also rank high on Google to bring in an unlimited number of free customers, then this book is for you.
It's a great guide for people with both small and large traffic sites because you'll learn step-by-step how to scale your conversion rates using proven testing and tuning conversion frameworks
Inside the 400+ pages, you'll learn:
How landing pages work.
How to set up a proper landing page to attract the right audience.
How to fix your failing site to improve conversion rates.
Strategies to turn your site into an automatic sales machine.
Ways to build a scalable landing page without sacrificing conversion rate optimization.
If you want to understand the powerful combination of web design, copywriting, visual design, and buyer psychology, then this book is a good read. It's available as a Kindle book and paperback.
Check Amazon Reviews & Price
---
By Chris Goward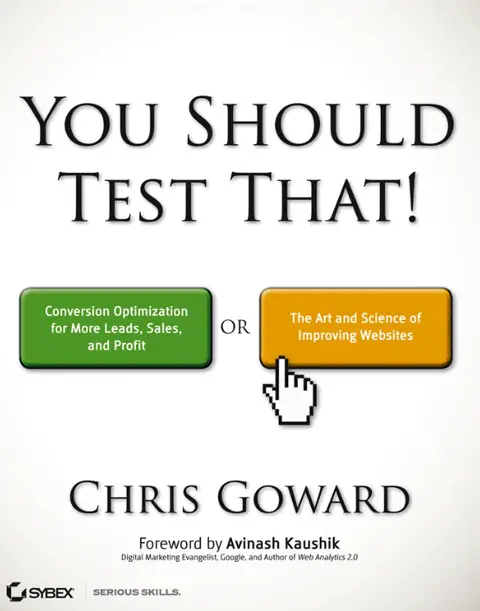 In the 368 pages of this book on conversion rate optimization, you'll learn the art and science behind building web pages that convert visitors to drive sales using proven, data-backed, decision-making processes.
The author of this book, Chris Goward, is the founder of the Widerfunnel CRO agency, and a conversion rate optimization consultant for companies like HP, Microsoft, and more.
Inside this book, you'll learn:
How to optimize your landing page to showcase the value proposition.
Ways to improve audience relevancy for your products and services.
Methods to create clarity, reduce buyer anxiety, and eliminate distractions that harm the sale.
How to create a sense of urgency for the visitor to take immediate action.
Ways to use data analytics to choose which conversion strategy works best for your business and prioritize it.
The various kinds of CRO methods that are most effective for landing pages, search engines, social media, YouTube, and more.
If you want to successfully test various strategies to get higher CRO results that are perfect for your business, while avoiding the guesswork, this book will teach you exactly how to go about it. It's available in both paperback and Kindle format.
Check Amazon Reviews & Price
---
By Alexander Radahl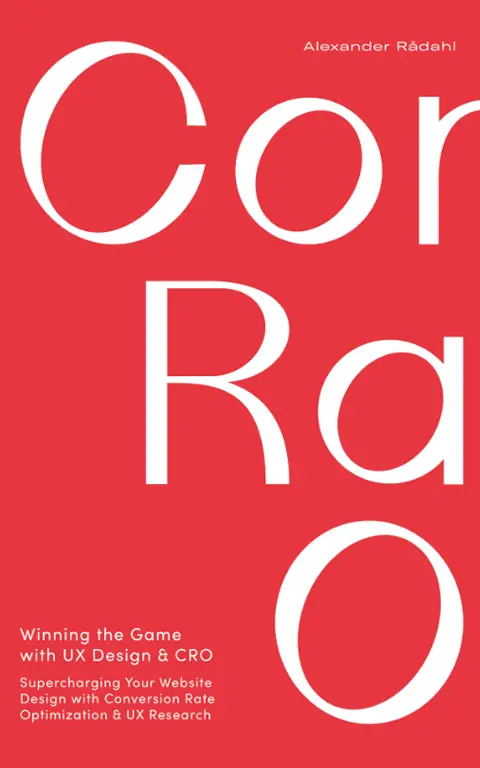 Alexander Radahal has authored one of the best CRO books for website designers and front-end developers, which I confidently recommend if you're working in those categories.
If you want to learn the important role of UX design in conversion rate optimization, and how to optimize user experiences to boost click-through rates (CTR), then this book is a good one to read.
The book's 248 pages are packed with excellent details to help you build more engaging websites using real-world methods that have been tested by tech giants like Uber, Airbnb, and Shopify.
Although the book is available in three formats: paperback, hardcover, and Kindle, I wouldn't recommend you buy the Kindle version because there are some charts and graphs with small text and numbers that can be hard to read on a mobile device. For the best reading experience, I suggest you purchase the paperback or hardcover version, or check it out from your local library if the book is available.
Some strong highlights of this book include:
How to use UX design for effective A/B testing.
The various kinds of UX layouts for boosting conversion rates and the psychology behind them.
How to research various UX design processes and choose the one that will work best for your company or a client.
How to conduct a user interview for greater usability insights.
Common mistakes designers make with CRO and how to avoid them.
Brainstorming methods for testing and improving conversions.
Copywriting tips for CRO.
On-site SEO tips to increase website rankings in the search engines.
Excellent case studies showing the results of UX design and CRO methods deployed.
Check Amazon Reviews & Price
---
By Ron Kohavi, Diane Tang, and Ya Xu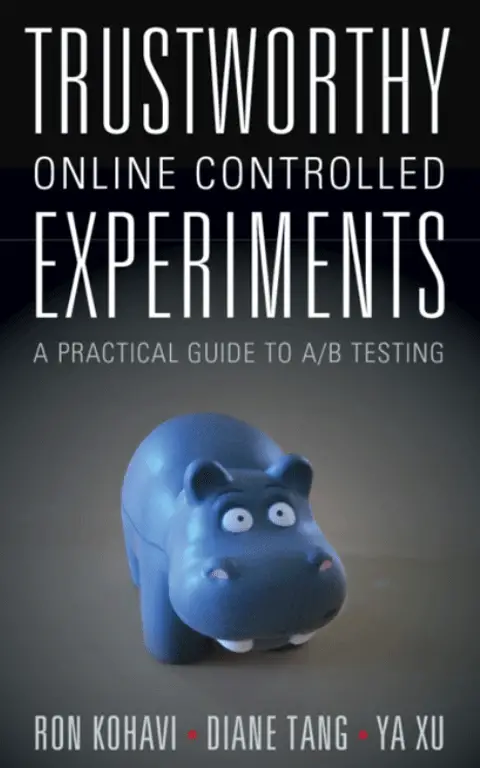 This is another good book on conversion rate optimization and an excellent read when it comes to A/B testing. The authors are verified experts in A/B testing, working with top tech companies like Airbnb, Microsoft, Google, LinkedIn, and Amazon.
One of the strongest features of this 290-page book is that it gives you rare access to decades of online experiments done by leading companies that you can use to your advantage.
Some of the key lessons you'll learn from this book include:
How to conduct trustworthy online experiments to understand your customers better.
How to build a data-driven culture with your marketing team.
A history of the top online controlled experiments conducted by big tech companies.
Tons of techniques, methods, and best practices for A/B testing.
Helpful case studies showing elements put into practice.
Effective ways to measure the long-term effects of your testing experiments.
After reading this book, you'll understand how A/B testing influences how successful companies choose which marketing strategy to invest in, and how to apply it to your business. The book is available in Kindle and paperback formats.
Check Amazon Reviews & Price
---
By R. Jon MacDonald
Next up on this list of the best conversion rate optimization books is a handy guide that can help e-commerce website owners who want to scale their business in a crowded and competitive marketplace.
It's also a good book for marketing agencies and consultants that want to grasp the psychology of buyers in any industry in terms of sales conversions.
I love how Jon kept the 228 pages of lessons clean, clear, and concise using tons of real-life case studies to illustrate how easy it is to get customers to take action on a website using proven CRO methods.
In this book, Jon teaches:
The 9 laws of conversion rate optimization that are important for success.
How to know what your visitors want and ways to give them to make a conversion.
How to earn a customer's trust so that they buy from you based on the value of your product rather than price alone.
Smart ways to get around discounting which is an unnecessary drain on your margins.
Whether you're starting an e-commerce website from scratch or you've been in this industry for a long time, this is a great CRO book to read. It has new things to teach you about conversion rate optimization that you won't find anywhere else. Plus, it's available in all formats: Kindle, audiobook, hardcover, and paperback.
Check Amazon Reviews & Price
---
By Anthony La Rocca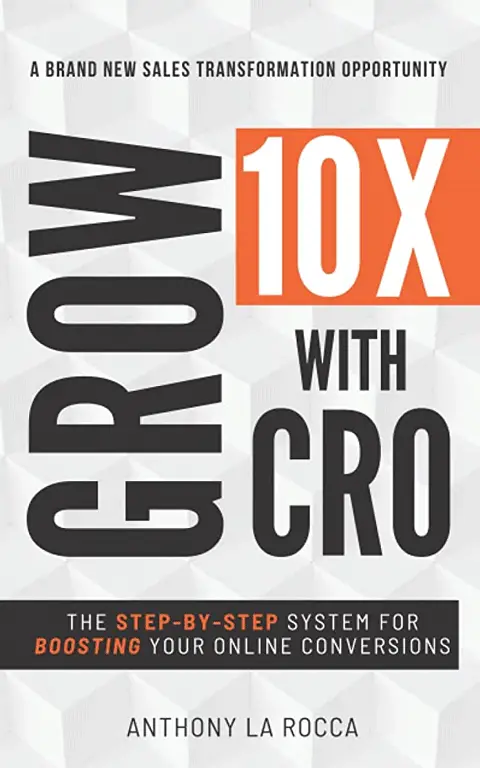 This book is one of the top CRO books for beginners because it provides a comprehensive guide to help any newbie go from a rookie to a master in conversion rate optimization.
The book teaches you what CRO is, how to set up a website that will convert more visitors into leads, and how to build a sales funnel that will turn those leads into customers.
If you don't recognize the author's name, Anthony La Rocca, he's the creator of the Warrior Forum, which was one of the largest online forums for learning about Internet marketing. Back in the day, before social media became popular to connect with others about marketing topics, the Warrior Forum was the top place for beginners and experts to share tips and advice about all things digital marketing. It also had an active marketplace to buy and sell Internet marketing services.
Inside this book, you'll learn:
The basics of landing pages, lead generation, sales funnels, and online marketing.
The factors that go into building a web page that converts visitors into leads in a single visit.
How to nurture the leads in your marketing funnel until they're ready to be sent to your sales page.
How to create a blog that not only gives valuable information to your readers but also converts them into paying customers.
How to perform user testing on small and large scales using basic marketing tools.
If you're just starting out in the world of online marketing, and want to focus on CRO for growing your business, then I highly recommend this book as a great place to start. It's a fantastic read, around 190 pages in length, and available in paperback format.
Check Amazon Reviews & Price
---
By Colin McFarland
This book by Colin McFarland makes it on this list of the top conversion rate optimization books because the author recognizes that every industry is not the same, hence the need for conducting creative experiments to find out what works best to increase conversions.
In its 157 pages, you'll learn the various methods for A/B and multivariate testing as well as understand which approach is best to use for your business. This book provides valuable insights into the impact of UX design on conversion rate optimization and offers practical guidance on how to conduct design experiments for success.
You can often get the paperback version for dirt cheap (around $3-4) on Amazon. There's also a Kindle format if you prefer to read on a mobile device. It may or may not be available for free to read from your local library.
Some of the top knowledge you'll gain from this book include:
What online experiments are, how they're conducted, and how conclusions are drawn from them.
The basics of A/B and multivariate testing for gathering data and analyzing which method works best for your company.
How to conduct UX design tests for quantifying user experience and optimizing conversion rates.
Common pitfalls of testing and how to avoid them.
An interesting method for A/A testing that other books don't share on the CRO subject.
As other readers can attest, "Experiment!" is one of the best books on conversion rate optimization that will teach you the power of A/B and multivariate testing in great detail so you walk away with a complete understanding of how to use these methods to increase website conversions.
Check Amazon Reviews & Price
---
By Josh Panebianco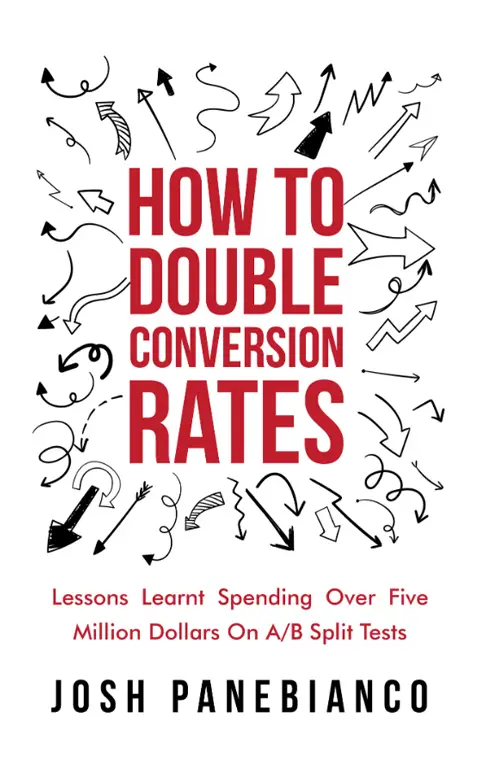 If you're looking for a good book on conversion rate optimization that will help you to 2X your conversion rates, then How To Double Conversion Rates by Josh Panebianco is an absolute must-read.
This guide is also a perfect complement to any of the other books on CRO reviewed on this page that you may add to your collection. This book covers the most important factors that lead to higher conversion rates on a sales page.
Like other books on this list, it will also teach you how to conduct A/B split testing, even if you're a beginner to this CRO concept. However, the key strength of this book is that you'll also learn copywriting and how to create compelling offers, which are huge contributors to conversion rates that other technical books tend to leave out or quickly gloss over.
In this CRO book, you'll learn:
How the author made his first hundred thousand dollars online which is packed with valuable insights that you may be able to apply to your business.
The top 3 factors that control conversion rates.
How to become a better copywriter using 4 steps to create a compelling offer that converts.
Ways to predict how effective a sales page will be with users before you drive traffic to it.
Methods to increase prices without reducing conversions.
How color impacts conversion rates.
Free tools you can use for CRO and measuring performance.
This book is especially good for beginners who want to learn the basics of effective marketing alongside conversion rate optimization. For professional marketers, it serves as a good resource for common CRO techniques you may have forgotten or neglected to use to improve the conversions for your business or a client's site. The lessons span over 280 pages and it's available as a paperback, Kindle, and audiobook.
Check Amazon Reviews & Price
---
By Benji Raban
A list of the best books on CRO would not be complete without Convert Every Click by Benji Raban. Amongst the many conversion rate topics covered in this book, what I enjoyed most is the author's in-depth explanation of conducting online marketing campaigns that can capture every click.
The idea is that if your customers are not ready to buy from you, even the best designs or CRO tactics will not make them take action. However, every customer is always ready to be educated about their problems, so even if they don't convert on the first visit, you can still use email marketing campaigns to help take them from a cold lead to a paying customer.
In this 300-page book, Benji will teach you:
The basics of information marketing and how businesses can use it to build trust with their customers.
Methods to build a sales funnel that is primed to capture as many leads as possible for your business.
How to conduct marketing campaigns that include Google Ads, video ads, and landing pages.
Copywriting tips and techniques that can improve conversion rates.
Ways to nurture leads in your sales funnel using proven email marketing tactics like segmentation, personalized messages, and follow-ups.
The best way to go about A/B and multivariate testing, including testing tools, strategies, and more.
Overall, this book covers everything you need to know about conversion rate optimization from the ground up; making it an excellent CRO book for beginners and advanced marketers who want to learn proven systems that can make more sales from their website visitors.
Check Amazon Reviews & Price
---
Conversion Rate Optimization Books Summary
I hope you enjoyed this list of the best conversion rate optimization books.
As someone who has operated various blogs and affiliate websites for more than a decade, these truly are the top conversion rate optimization books you can read on the subject. Each one of these recommended titles has been extremely helpful in improving the conversion rates for my products and services, and I'm confident these books on conversion rate optimization can give you the expert knowledge you need to improve your own CRO results.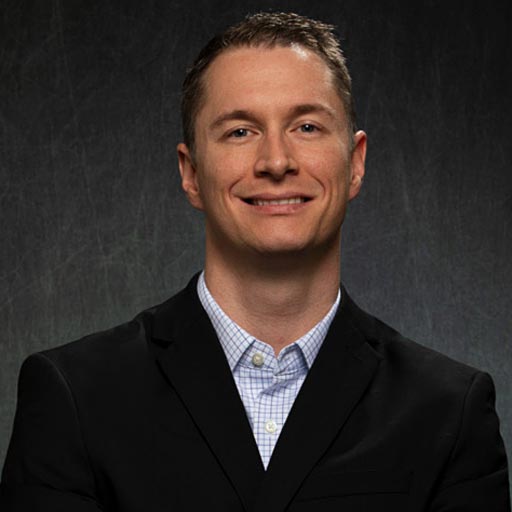 Stephen Hockman is an entrepreneur and founder of SEO Chatter. He specializes in search engine optimization and digital marketing and has been fascinated with SEO since 2005. His goal is to share the best tips and news about search engine marketing to help you get more website traffic.